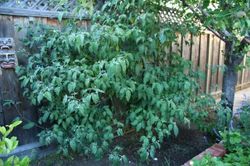 Speaking of overwintering peppers and chillies, here's a pepper type that should be better known: the Rocoto.
Joe Carrasco's, in California, is still thriving after twelve years. It withstands temperatures down to around freezing and hard pruning is recommended (see before and after pictures on site). "This nice old rocoto produces a substantial harvest," Joe told me in August, "and this year looks like will be one of the largest yet." Pop over to his website for more information on seed saving, preserving and recipes.
It's rare in this country, but Real Seeds have limited stock of Rocoto, also known as Tree Chile or Alberto's Locoto, and describe it as possessing a warm, rather than burning heat, lots of flavour. If you're wondering if you are up to the challenge of keeping it alive, they reckon that, if you can overwinter fuchsias or geraniums, you'll have no problems. Early ordering is recommended.