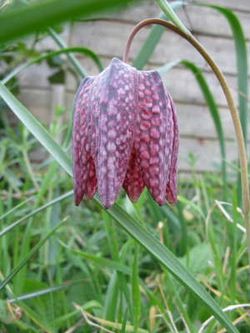 I thought I'd lost mine. They were barely there anyway, as the enormous number of snakeshead fritillary bulbs bought from the local market turned out to be an enormous number of grape hyacinths, with a few fritillaries thrown in. One spreads like a weed; the other doesn't. Guess which?
Their numbers dwindled annually (from four to one) and they didn't appear at all last year. Which is when I used their space next to the fence to site tomato plants in bottomless pots. This year I've had a (near) explosion – six fritillaries coyly preen themselves in the long grass, like teenage girls done up to the nines, but lacking the self-confidence to look you in the eye.
So why have they returned? Well, the spot where I put them used to be under a sycamore. Bit shady, but retaining some moisture. When the sycamore fell down, they suddenly found themselves dry and sun-baked, a definite no-no for this fritillary, which thrives in water meadows.
According to my recently acquired, jumble-sale copy of Roger Banks' Old Cottage Garden Flowers (pub. 1983) it fell victim in the wild to post-war subsidised land drainage schemes and is only found in preserved pastures in Suffolk and the Thames Valley. One of these is the Bucks and Oxon Wildlife Trust's Iffley Meadows in the heart of Oxford, where they have increased plant numbers from 500 in 1983 to around 65,000. Another Thames Valley site is North Meadow, Cricklade, Wilts, 110 acres of ancient hay meadow lying on a flood plain.
Some sources say that they're our only native British fritillary, but at Natural England [NB link removed, as source has now disappeared] they report that, though recorded as a garden plant in 1597, its first recording in the wild was 1737 – so perhaps they're naturalised rather than native.
The other place you find them, of course, is in gardens. Dr Stefan Buczacki, in The Essential Gardener, (pub. 1991, acquired at the same sale), tells us they always do best amongst moist grass. Unwittingly, by placing all those bottomless pots, watered copiously as is necessary to tomatoes, right next to the area of the apparently defunct fritillaries, and being less than punctilious with the lawnmower, I managed to create the ideal conditions of moist, long grass. A tiny little meadow, in fact, in one tiny corner of the garden. It all goes to show that with a bit of luck (sorry, forethought) we can grow all sorts of things that, by rights, should only flourish elsewhere.
Cactus, anyone?
For a range of sites where you can buy Fritillaria Meleagris (purple, white or mixed), Grows on You is useful, or see Really Wild Flowers. Or you could try increasing your stock by collecting your seeds. If you've had problems establishing snakeshead fritillary bulbs, here's advice from Charlie Pridham, owner of Roseland House Garden and Nursery in Truro, writing on Garden Banter.
"The best way to establish them in a garden is to buy the corms in late
summer, do them up into pots (lots in each )and place under the
greenhouse bench, protect from mice and keep just moist. In spring when
the shoots appear check for roots and as soon as you see roots plant the
out where you want them (they actually quite like a heavy soil). The
problem is that wild ones have their roots already at the time you are
able to buy the corms, so they can cope with wet while the bare corms can
not and they need rehydrating slowly."