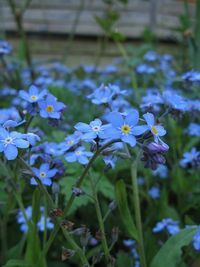 Weeds or flowers? The forget-me-not divides opinion. I can't actually think of a much prettier flower. At this time of year the beds are hazed with a limpid blue, combining superbly well with primroses and cowslips. But then, my forget-me-not is the biennial Myosotis sylvatica. It has soft, strap-like leaves, self-seeds freely and is easy to pull up.
Over at my father-in-law's house, the forget-me-not is completely different. It has rougher, heart-shaped leaves, is perennial, has spread freely, and is a pig to pull up. Husband has just spent days - yes, days - wrestling with roots systems that grow into thick, tough clumps, and don't like to leave the ground. This is not Myosotis, but the false forget-me-not, Brunnera macrophylla or Siberian bugloss - the flowers are remarkably similar, although they lack Mysotis's cheerful splash of yellow in the eye of the flower, and the blue seems just a touch duller.
I like this one too, and, if you need ground cover in dry areas, then Brunnera fits the bill. Not much in the way of weed seedlings will get past the thick foliage of a Brunnera bed. I consulted Graham Rice's Planting the Dry Shade Garden, and, sure enough, he devotes three pages to it, as there are now a number of selections giving silvery leaves and, sometimes, white flowers.
He describes them as great for absent-minded gardeners as they survive in scantily watered containers. However, he also describes them as never invasive, spreading only slowly. Well, all I can say is that it had managed to colonise every corner of a good-sized garden, and gave the impression of a plant that self-seeds with abandon. I'd love to hear whether you've had this problem with them too.
You'd think Brunnera would have been off the list of desirables, but we recently added a different form: Brunnera macrophylla 'Jack Frost'.  Having hunted one down, we're now seeing them everywhere (dammit!). Not surprising, as it is gorgeous. Its green leaves overlaid with silver make a lovely contrast with Dicentra and hellebores at this time of year, and at twilight they shine ethereally. It's also much better behaved. See a variety of silver-leaved Brunneras, and how well they grow in cold conditions, at Northern Shade Planting.