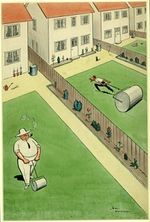 Just a reminder, in case, like me, you're always thinking "Ooh, I'd like to do that" and then forgetting to note down dates. 
The Cartoon Museum's exhibition of H M Bateman runs until 22nd July. Still time to to catch a super show, with some chuckle-worthy garden references.
In this one - The Rollers, from The Strand Magazine 1933 - note how the skinny little gardener is making up for the lack of his neighbour's bulk with a great big roller. Or is he just skinny because of all that energy expended?
I could make a cheap female jibe about men and their equipment, but I won't.
Images © H M Bateman Designs. With thanks to the Cartoon Museum.