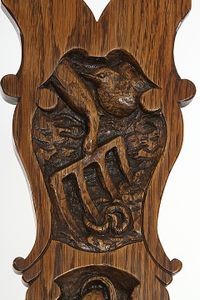 Sometimes you need a very special present. I can imagine a few horticultural societies wondering what to give a retiring president - someone who's worked tirelessly for decades, keeping it going.  Or institutions with a much-loved member about to leave.
When our local librarian retired, she wanted gardening equipment for the hobby that she'd never before had time for and so much money was collected that she pretty much stocked the garden shed that was part of the present.
But supposing she'd already had all the equipment?  Well, here's a suggestion for anyone who's looking for that very special present for a very special gardener. You need to be nicely padded in the wallet department, or collecting a large subscription.
Nigel Coope is a talented chairmaker with years of experience. I met him at Craft in Focus at Wisley this spring and when he pointed to a rocking chair and said, "This is the most comfortable chair you'll ever sit in," I took it with a pinch of salt. Furniture makers don't aim to make uncomfortable furniture; it's just that quite often they succeed. But Nigel was right; it was extraordinarily comfortable. OK, so you can't exactly sink into a wooden chair, the way you do a squashy sofa, but such is the skill with which he's fitted the shape to the human body that it felt as if I did.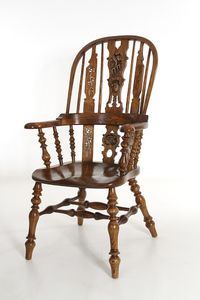 Nigel's spent years perfecting the curve on the back of his chairs and the "squab" is carved from wood two inches thick, to allow a comfortable shape. I have to say, I was amazed. The rocking chair was truly the most comfortable I've ever sat in, and, believe me, I've tried a few rocking chairs.
Adding to the desirability are the most delightful carvings set into the back, done by a carver local to Nigel in Nottinghamshire. Any subject can be depicted, but of course the gardening motifs were the ones that caught my eye.
Nigel's chairs (he does a variety of traditional designs) aren't just a something to sit on; they're heirlooms. I can see one being passed down to the first-born with the words, "Grandpa loved his garden". And possibly the remark, "And the society really appreciated him." 
The next Craft in Focus at Wisley will run 24-28 November.