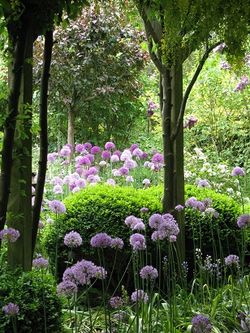 Oh, duplicity!
[Me, 3 days ago, knowing it better to creep ideas up behind Husband]: Brand-new NGS garden opens Sunday.
[Husband]: Hmm?
[Me, 2 days ago, casually interested]: That new garden has a veg plot.
[Husband]: Hmm.
[Me, yesterday]: Lovely day. We could visit that garden and have coffee. And cake.
[Husband, puzzled]: You've only just had breakfast.
An hour later, we were negotiating the extremely rutted mud track to Rose Cottage and worrying about the exhaust system, while my aged Mother bounced on the back seat.  It wasn't my moment to tell them we were there to take a photo of cake. 
Yesterday saw The Bloggers' Cut, a virtual Chelsea Fringe event, encouraging garden bloggers around the country to get fat pamper a sweet tooth in a garden. What cake would we have? Would it live up to expectations?
Rose Cottage is the sort of garden that ticks all the boxes for garden visitors: a pergola, archways, a pond, a stream, lots of lawn, herb beds, veg beds, tucked-away corners (and teas!) - and none of the tickboxes that Helen Yemm surmises appear on the Chelsea judges' clipboards. 
It wouldn't have got a look in with the judges, but would have had a chance with the People's Choice. Giving the impression of having nurtured generations of growing children, it was actually created only 16 years ago. At the same time that the garden was laid out, the exterior of the house was built around the dilapidated 18th century interior. But for the too-clean, only-slightly-too-red brickwork, however, you wouldn't spot its youth. Ivy sprawls over the garden walls. The narrow approach of aged-looking York Stone widens across the front of the house, edges hidden under a froth of aquilegia and euphorbia. The house looks the epitome of centuries-old Surrey vernacular architecture.
Particular highlights were a planting combination I haven't seen before: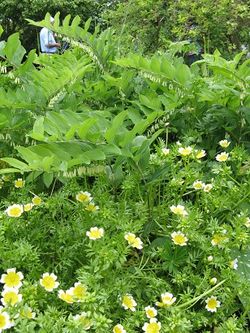 Alliums: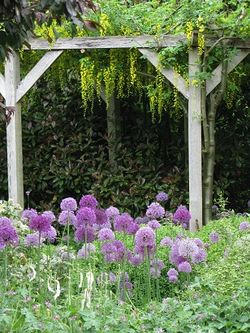 A pond: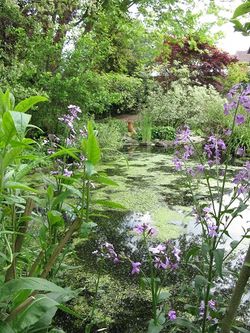 And a (short) laburnam walk: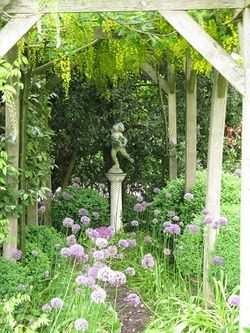 The Cake? Coffee and Walnut.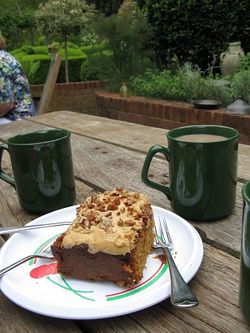 This has been a stalwart sustenance of garden visiting but I think I have to review my choice. Many C&Ws, like this one, now have icing so sweet it makes your teeth bleed - something to do with a fashion for butter icing (instead of that hard-top, thin layer of icing-made-with-water), and it generally contains too little butter.  Husband said I should have gone for the strawberry/cream flan affair, but with the filling oozing the way it was, three forks between us didn't seem adequate equipment.
This new-found discernment (and I prefer that description to "criticism") is something I'm beginning to bring to NGS gardens. Quite why I hadn't done so before is a mystery, but the realisation dawned when reading a discussion on Anne Wareham's Veddw Blog.  Until recently, NGS gardens were just a nice day out, with the added pleasure of snooping on private property without the threat of trespass, the possibility of a few interesting plants and (of course!) cake. 
Now I look specifically for the bits that work (that laburnum pergola and statue, those alliums) and the bits that don't (a long border, with blocks of planting, all the same height, and an overwhelming bushing of geraniums in front of the alliums), rather than just interesting plant combinations. 
I'm looking forward to bringing equal interest to the quest for new flavours of cake...
The Bloggers' Cut was the brainchild of Vegplotting, where you'll find round-up of the other participants in this, the first ever Virtual Chelsea Fringe event. (Thank you, Michelle. Any excuse to eat cake!)