Facts about Hampton Court Flower Show:
Area of showground: 34 acres
Exhibitors at first show: 265
Exhibitors last year: 600
That, you will realise, now makes for a mighty show to get round. It's reached the stage where it's just about impossible to do it in a day, although the new zone arrangement means that it's no longer necessary to traverse the entire site to see both the small gardens (this year named Summer Gardens) and the show gardens.
Chances are that all of us who made it to the Press Day yesterday missed something  Chris Young tweeted a picture from the Language of Flowers exhibit, missed by me (and Vegplotting). Mark and Gaz at Alternative Eden have already posted some lovely pictures, but are returning later to mop up the rest of the show.
I bypassed most of the trade stands, cast a cursory glance round the Plant Heritage tent, missed the roses completely. Here are a few of the things I did see:
Nikki Tibbles goes for an typically opulent (if rather impractical) henhouse design. The six designers included Deborah Meaden and Kate Humble and the houses will be auctioned on eBay. More pictures at Wild at Heart.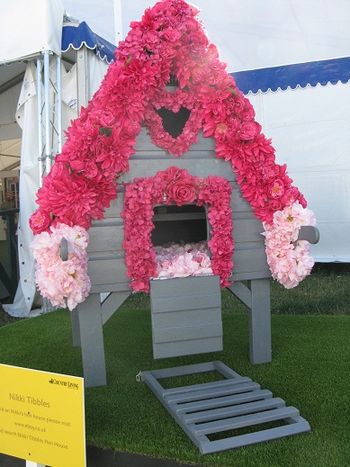 Edulis created a rather exotic look in the Growing Tastes tent: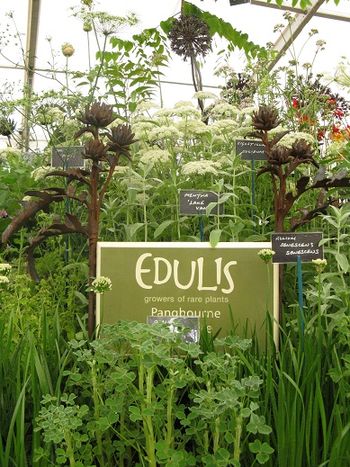 Hooks Green Herbs managed 111 herbs in one stand: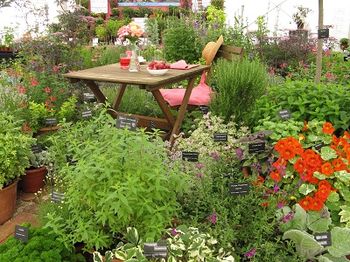 The Native Butterfly garden was delightful (see that blur - butterfly in action!), and made it much easier to see the butterflies than Eden's biome, there to advertise their new overhead walkway.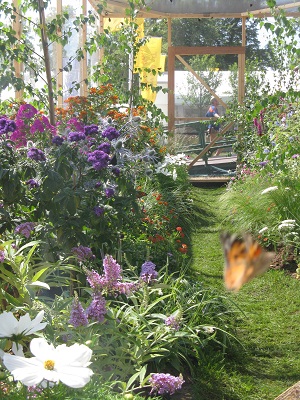 New addition to the show is the Association of Professional Landscapers' "how to" display. During the week they'll be demonstrating how to lay turf, plant a tree and lay a deck (no fencing or slab-laying unfortunately, as the demos are only 10 minutes long). Their display shows a "bad" front garden and a "good" one.
Celebrities are more spread out than at Chelsea, though to be honest I'm not sure Mike Read counts. (He was reporting for Radio Berkshire, when not posing in front of Ecover's garden).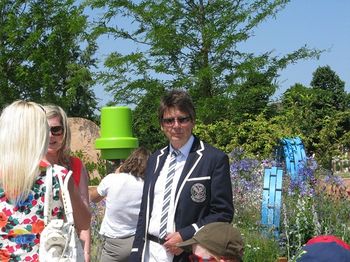 Sir Donald Sinden took a spin around the Queen Elizabeth Foundation's garden, specially made for "people on wheels" as Bella Darcy Read told him. She consulted with designer Heather Appleton. His grand-daughter Harriet had been one of the team working on Cool Garden which won Best Summer Garden.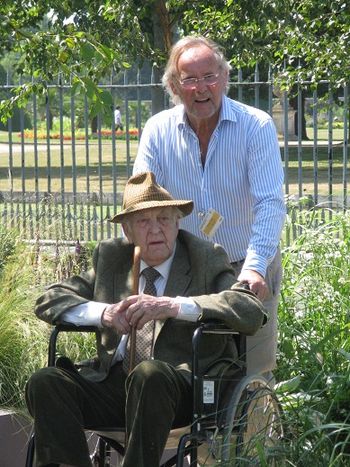 But what, you ask of the Show Gardens?  That's definitely something for a whole new blog post.