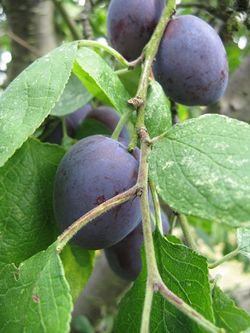 August is for alcohol. That's certainly the way it seems to be going anyway.
First, with an autumn crop that seemed more than adequate, Husband fell with enthusiasm on Hugh Fearnley-Whittingstall's recipe in The Guardian for Raspberry Mint Cocktail. Let's just say, the raspberry harvest wasn't big enough. It could never be enough. Raspberry vodka is absolutely gorgeous, even when you forget to strain the raspberries in your eagerness to fill another glass.
Secondly, the damsons are almost ripe. Damson gin will be under way any moment now, now that my aged mother has scoured the supermarket for cheap gin to form the base. It's every bit as lovely as sloe gin and, given the damson trees in the garden, a whole lot easier to stock up on.
Thirdly, I've been racking my brains for something to do with plums. Crumble? Yes. Frozen? Yes. Bottled? Yes. Jam? Yes. Chutney? Yes. There are still pounds hanging on the tree. Then something made me think, Brandy! I found a Riverside Cottage recipe for one with wild plums.
Our Czar cultivar probably wouldn't need so much sugar so this simple recipe, Plum Brandy from Juniper and Rose blogger, Vanessa Kimbell, would be better. But I think I'll plum-p (sorry) for Homemade Plum liqueur, which uses vodka and brandy. Not quite sure why, but at least it means I can buy a smaller bottle of brandy.
At this rate, it won't be just the plums that are pickled...  If you have a favourite fruit and alcohol recipe, I'd love to hear it.