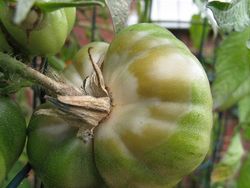 At the end of last week I had my first Smith Period of the year. I know this because I'm signed up for Blightwatch. A glance at their chart today tells me that I'm already halfway into another SP. A glance at my tomatoes tells me that one fruit has already succumbed. Sigh!
Still, blight strike is not in vain. I've been secretly hoping for a touch, so I could do my bit for science. James Stroud at Bangor University would love to receive leaf samples from anyone whose tomatoes or potatoes have been affected.
James is conducting research in a collaboration with the Sarvari Research Trust, the not-for-profit company that researches late blight and has given us the blight-resistant Sarpo potatoes.
There are various strains of blight and preliminary studies have suggested that some prefer to lodge in tomatoes, others in potatoes. "Understanding which strains predominate on tomato," says James, "may help plant breeders develop tomato cultivars with better resistance."
Send James an email ([email protected]) and he'll send an info pack and mailer for your samples. Blighted potatoes on the same site are also of interest.  Packs come with pictures to help ID the disease, but if you're not sure that what you've got is blight, James still wants to hear from you. He'll be in touch with everyone who sends something.
So, I'm off to snaffle my leaf sample. Isn't it satisfying when you can wrest good out of bad?