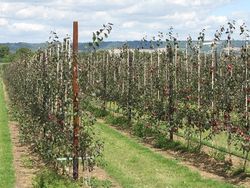 The choice of what to see this coming Heritage Weekend is akin to turning over gems in a jewellery box - so much temptation. But I'd heartily recommend, if you can, that you hie down to the Open Day at East Malling Research in Kent this Saturday.  
2013 is their centenary year and Husb and I recently rolled up for one of the tours that they've been running twice monthly throughout the summer as part of the celebrations. We were lucky that our tour was taken by Ross Newham, Head of Communications, which meant we were treated to at least one place that other, less august, tour leaders couldn't reach.
It's difficult to over-estimate the impact that, without fanfare, East Malling has had on the modern garden. It's given us dwarfed fruit trees, disease-resistant strawberries, Malling raspberries, garden-sized hop plants, even decorative elderberries such as Black Beauty.  But it's an unassuming place to visit.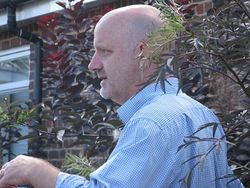 If you enjoy 1950s British "boffin" movies. the site feels delightfully familiar. The buildings spread haphazardly across the site, dating variously from Arts and Crafts Edwardian to spanking new, housing different departments. It's not pristine. You're just as likely to find a corner filled with brambles as lawn.
Begun on only 23 acres in 1913, the whole estate now covers 580, so, despite being only 10 minutes' drive south of the M20, it feels as if you're in the depths of the country. Of course, when the land was first leased from Kent County Council at a peppercorn rent, it was, indeed, deep in the country.
One could easily imagine Barnes Wallis bouncing ball-bearings here in The Dambusters (going by Wiki, he was at Hersham), and indeed, the Ditton Laboratory, which conducted pioneering research into low-temperature storage of fruit, was used for secret experiments to reduce ice formation on aircraft wings during WW2.  The lab is now being sold off for housing, which is a shame because I'd love to have seen the full-size replica of a ship's hold at its centre.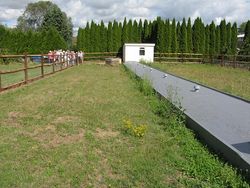 Beyond my obsession with black and white films, there was plenty of interest. Last used in the 1980s and only recommissioned recently is the underground root laboratory, where they'll be looking at root growth on modern varieties and the sequestration of carbon.
And although research here concentrates on rosaceous fruit (which includes raspberries, blackberries, plums, strawberries etc) it is the apples that are most in evidence. The long drive from the entrance passes acres and acres being grown on various root-stocks and we were awed to hear that it takes 25 years to get a new apple cultivar to market.
Much of the research takes place in glasshouses, which makes things considerably easier. When research was conducted into pests and diseases in the field, one year of bad weather could put a project back by a year.
And what exciting place did Ross take us that we wouldn't have seen otherwise?  The fruit storage labs. Must admit, the two people at the benches weren't looking too enthralled by their job of sorting plums, but the place is not without its dangers. Here they have vaults to experiment with reduced oxygen conditions to preserve fruit. They look harmless, but enter when oxygen levels drop below 17% and you'll die.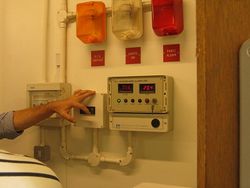 Quickly.
The open day, on Saturday 14th September, from 10 till 4 (£3 entrance, cash only) has plenty more going on apart from tours of the farm and laboratories. You'll also find interactive science displays, a pest and disease clinic, fruit variety advice, and plant and produce sales.
There's also a cafe which does snacks like baked potatoes and sandwiches, although The King and Queen pub in the village looked tempting, and there's a decent looking curry house, too.
Travel alert: if you're driving from Surrey along the M25, be warned that signage at the roadworks before the junction of the M25 with the M26 is extremely poor. Stay in the middle lane. If you keep left you'll end up heading north on the M25 and will either have to continue to the M20 junction, quite a detour, or turn around at the next junction and leave the M25 to join the A21, where you'll turn left onto the A25 and travel parallel with the motorway the rest of the way. Astonishingly, it is not possible to turn left onto the M26 from the southbound M25 (as we rather heatedly discovered).
And finally... Well, what would you expect, with all that fruit?