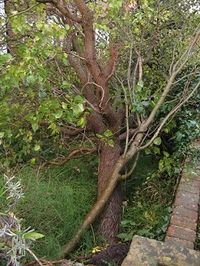 Garden bloggers around the world have been galvanised into action by Lucy Corrander of Loose and Leafy with her Tree Following meme. At the last count, seventy-six people across seven countries now keep a monthly eye on a tree of their choice and report back. It's addictive stuff. You can keep up with a tamarillo in Melbourne, a Kousa Dogwood in Michigan or a Mulberry in Suffolk. Or, indeed, a rather sorry lilac in southern England. Mine.
Back in October, I reported on the lamented demise of our much-loved lilac in the front garden. St Jude, the patron saint of lost causes, had sent a storm to create a few of his own.  At least, a lost cause is what I assumed it to be.
Just as I'd decided to follow my Bramley apple (showing a lot of blind wood, it offers the chance to check up on the effects of my pruning) I spotted the lilac. Despite being sawn in half, like a magician's assistant, leaving a bare stump which we intended to revisit with the chainsaw, in the last three weeks or so buds have burst from the stump.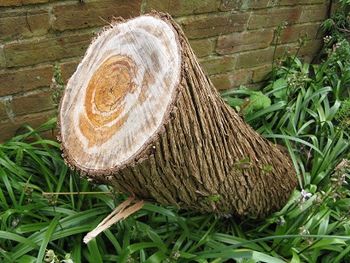 The stump is still leaning at an angle of 45 degrees, so we're storing up problems if it grows too big. But I can't bear to dig it up now. New life is surging and it looks as if perhaps we'll have ourselves a bush, rather than a tree.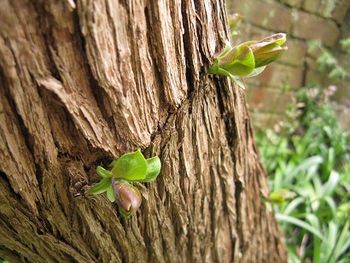 Or perhaps, as Husband suggests, it'll run out of steam in a couple of years and give up the ghost. We'll just have to wait and see. In the meantime, the snails seem particularly fond of it.