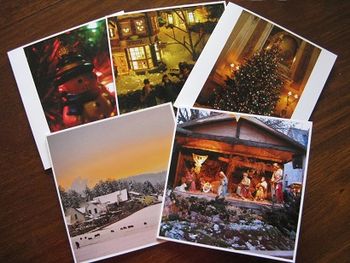 Cards for gardeners, Christmas or otherwise, aren't that easy to find, as I've said before, but I'm really getting into this idea of using your own pictures.  So, when Dani Nash of Square Snaps got in contact, I "snapped" up (sorry) her offer to give them a go. 
Interestingly, Dani trained as a garden designer and so loves the idea of gardeners featuring their photos. Her baby, as she calls it, was Pollinate, a garden design company, but a real, live breathing version came along and she's had to hang up her boots and pencils for the time being, while getting involved with Square Snaps, which her brother set up a year ago.
Dani said:
We take great pride in the simplicity of our website and the quality of our products. The Square Snaps greeting cards are different to other personalised cards because we use gorgeous thick quality card and luscious envelopes and the printers that process your photos are enormous great big super dooper precision monsters…   So that card of a sparkling frosty garden will really stand out amongst all the snowy robins, Santa faces and
So how did I get on?
Well, first I realised that my stock of wintry gardening pictures is little short of non-existent, which is why you'll notice a range of anything but in the photos I chose.This is a situation that I'll try to remedy this winter (fingers crossed for frost and snow).
No worries, though, as I had several non-gardening pictures I wanted to try out. I also searched for suitable Creative Commons pictures and fell in love with the snowy scene of Embrach, Switzerland, by Juan Rublano.
The Square Snaps pages are very simple. I could possibly have done with a touch more information as, next time, I'll know that I didn't have to upload ten pictures (some of which I duplicated) to fulfil the minimum order of ten, as the next page allows you to choose how many of each picture you want printed.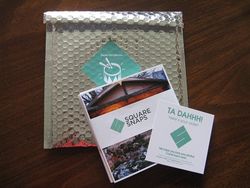 Altogether, it went very smoothly. The cards are square and, as most photos are oblong, the Square Snaps programme automatically chooses a portion of the picture to put on the card, but it's easy to edit this if you wish (though it was  bang on for most pictures).
All I had left to do was wait for delivery, which came in a rather stunning silver padded envelope within the following five days (I was away, so can't tell you exactly how long they took).
From my examples, I can say that I should have taken a closer look at my picture of the Christmas tree in the hall at Castle Howard. It looked sharp on screen, but I should have enlarged it to check as it's a tiny bit blurry. I think that some users might prefer to choose from landscape-orientated photos as the margins turned out even on all four sides, rather than wider at the sides for portrait-orientated photos.
For myself, though, I'm extremely pleased with them. They cost £9.90 for ten cards, the card used is, as Dani says, good quality thickness, the photos are glossy and sharp (photographer permitting), the ordering process was simple, and there's definitely something rather thrilling about seeing your photos professionally turned out and winging their way in the mail, after you've added a discreet note on the back, ensuring people know that it's your picture.
Ninety-nine pence is an absolute bargain for a birthday card, too, so I'll be doing some forward-thinking this year and choosing a variety of scenes for friends' birthdays. Ooh, I'm going to be so organised!
Special Offer
Last orders from Square Snaps for Christmas should be given by 18th December. Let Dani know you saw them here by entering the code G10 at the checkout and you'll get 10% off!