Husband's obsession with Hellebores doesn't quite match up to Juliet Davis's, she who featured on BBC's Gardeners' World this week with her glorious collection found at Kapunda Plants, but he does have the patience to grow them on for years on end from seedlings grubbed up from the borders.  We should have quite a few around by the time he's finished. 
The one pictured below isn't one of his, but now that the Daphne is filling out nicely (it's about three years old), the two make a lovely combination at the back of a shady border.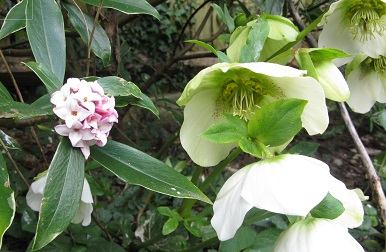 Today is Garden Bloggers' Bloom Day, hosted by May Dreams Gardens. Pop over to see what else is blooming around the world.