There's something about the underdog that, they say, always appeals to the English. Perhaps this is why I've always had a soft spot for violets. They seem so small, so frail, so much as if a breath of air would crush them.
It took me a little while to discover that they're actually tough as old boots. Dug up a violet? Just stuff its wiry stems and roots back into the ground. Anywhere will do. Anyhow. You don't even need to water them in for the most part. 
They can also get a little untidy. Once the flowers are over, the plants grow, lifting their leaves and seedpods high.  But I do love them. Rarely do I put them in the compost. They add a little to my spring corner, underlying polyanthus, cowslips and anemones.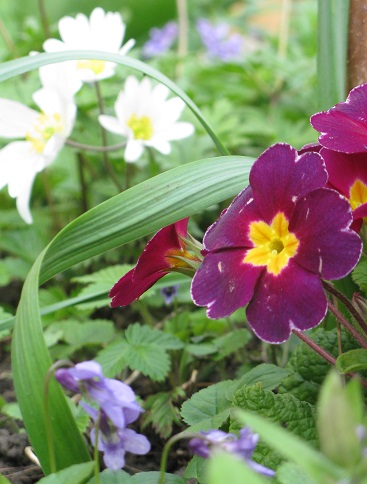 If they're really in the wrong place, I move them to a different part of the garden. And I'm pleased to say that my plan is finally coming together. In a woodsy area I have a statue and for quite a while I tried to work out what would look good carpeting the very shallow soil behind it, and what would be tough enough to bear stamping on when we pick the plums above.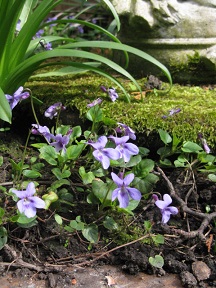 After various attempts, some involving alpines and small-leaved sedums, I realised the answer was literally all over the garden. I'm now helping violets to colonise the area. They seem to chime perfectly with the Victorian character of the young maid.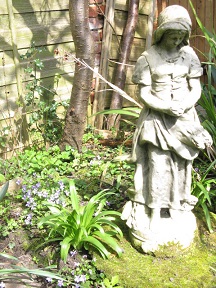 Today is Garden Bloggers' Bloom Day, hosted at May Dreams Gardens by Carol who, I am delighted to see in her blogpost last Saturday, is also a violet enthusiast. Why not pop over and see what else is in bloom this Spring?