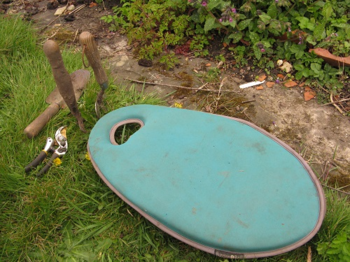 As work in the garden ratchets up notch by notch with Spring's progress, I'll bet you have a handful of essentials that you take out into the garden every time - tools and equipment that you find are really all you need. I wonder, though, how universal our essentials are, and are your essentials anything like mine?
If there's one thing I wouldn't be without just now, it's the Kneelo (and no, this isn't a sponsored post). There are loads of garden kneelers on the market and I was taken recently by one recommended by a professional on the Landscape Juice Network. The Alpro Knee Cushion is made of synthetic material that moulds to your knees and is, apparently, designed by a German knee surgeon to distribute the weight properly. Alpro make knee pads too and, given that they're aimed at people like tilers who are on their knees much of the time, are worth looking at if you really suffer when kneeling or have a knee injury. 
I, however, am perfectly at home on the Kneelo, and long may it last. Actually, the Kneelo itself has lasted well. Husband bought one for me four or five years ago (a Christmas present, no less) and it's still going strong. I particularly like the filling, which has a core of EVA foam, is a padding used in bicycle saddles and for theatrical costume pieces such as helmets. Wrapped around that is memory foam. The outer covering is Neoprene, so if it gets wet it dries off quickly. All in all, it's beautifully soft and squishy to kneel on, and actually quite cosy too, while firm enough not to disappear into the mud.
It comes in a variety of bright colours, which makes it easier to spot when you've left one somewhere on the grass. You'll also find kneepads in the same material on their website.
 For something else I wouldn't be without, see the gardening smock which I wrote about a couple of years ago and is still going strong.