A return to POTM Round-up this month for the Hardy Plant Society, who recommend Primula sieboldii 'Winter Dreams'.
My ideas of primulas tend to start and stop with primroses, although they've been rather grudgingly joined by more garishly coloured primulas, which arrived as gifts and have been planted out in my "spring" section. I've grown used to red appearing in the area, but am still not entirely comfortable with it.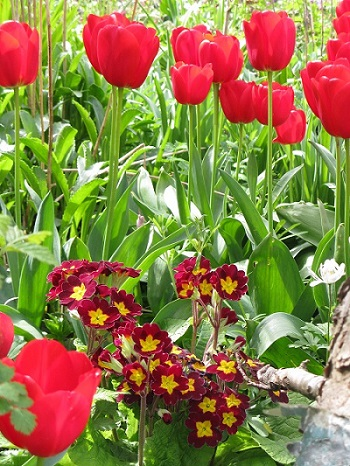 The Hardy Plant Society's Primula sieboldii, especially with the version with "snowflake" flowers, looks very tempting. Incidentally, did you know the HPS offer free advice? The email address is on their website.
A totally new arrival to the Plant of the Month Round-up is St Andrews Botanic Gardens, with Pandorea pandorana, which I could happily grow in the conservatory I haven't got, merely because it's common called the Wonga Vine. Presumably, it makes a great companion to the Money Tree. The Wonga Vine is a woody climber that's useful as a houseplant because of its long flowering season.
Incidentally, St Andrews University are hoping their website will make the gardens better known (must admit, I'd never heard of them) and, if they happen to read this, I'd suggest the website pages contain better links back to the home page. If you're heading that way this summer, though, it would be worth checking out their programme of outdoor (in Scotland?!!?) concerts and film screenings. I rather covet their study day in September on built additions to the garden.
The Flower Council of Holland are pushing Woodland Sage (Salvia nemorosa)this month. Good for pollinators, with purple plumes, if you cut it back immediately after flowering, there's a good chance you'll get a second flush.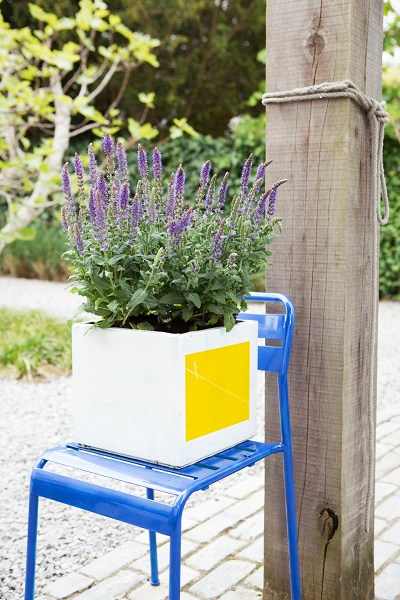 A newly discovered source of Plant of the Month is Plant Advice who offer a monthly podcast with gardening tips and advice. Started in 2005 by George Munford, a horticulturalist, and Richard Farrar, an electronics engineer and featuring Sue Mack, it's gentle fare, with a good amount of info about the plants featured. This month's is a shrub rose, Rosa Xanthina 'Canary Bird'. It can be used as a hedge or trained, has an AGM, is very hardy, grows up to 2.5m, with a 3m spread, and is one of the earliest roses to flower in the year with single yellow flowers that, in the photo on the website, remind me more of Potentilla. Deadhead for a second flush in late summer.
I can't really do POTM without mentioning the RHS gardens. Harlow Carr recommends Pulsatilla vulgaris, the Pasque Flower, with purple flowers and interesting seedheads. At the other end of the country, Rosemoor suggests Cytisus, or Broom. We had a large bush for ages and, to be honest, I got fed up with it as it wasn't hugely interesting and I wasn't enamoured of the pea-like yellow blooms. However, Rosemoor are featuring Cytisus x boskoopii 'Hollandia' with cream and dark pink flowers and it's always good to find something that will tolerate a difficult position with poor, dry soil. Planting companions are also suggested.
Wisley features Magnolia 'Daybreak'. It's the stellata magnolias that usually make me covetous, rather than those with large tulip blooms like this one, but this one has remained shrubby and small over 15 years and is highly fragrant, so it's worth thinking about for a smaller space. They suggest growing it with camassias, but regular readers will know what I think of them after my experience last year.
Hyde Hall is concentrating on Allium Christophii this month, which ties in nicely with the salvia above, as Salvia nemorosa 'Lubecca' is a suggested planting companion.
My absolute favourite this month, though, has to be Woodgate Nursery, near Aylsham, who have this month elected, as their Plant of the Month for May 2016...Horse Chestnut. (I'm sorry I missed their offering of Ground Elder last month, as that would have had more gasp factor). Never mind pushing the surplus, each POTM is a personal commentary on a plant that means something to owner Peter Purdy. This month he fears the impact of disease in chestnuts. If ever I'm passing, I'd like to drop by because I like the approach.
Woodgate Nursery have a free garden show on 18-19th June, which includes show gardens. That sounds like a jolly jaunt.