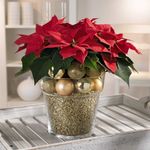 As we head towards Christmas, are you wondering about the wisdom of bringing a poinsettia into the house?
Poinsettias are widely believed to be poisonous. But this is the result of a deduction wrongly made, according to Land Steward website, back in 1919 when a toddler's death was wrongly attributed to eating poinsettia. Apparently,the American Medical Association's Handbook of Poisonous and Injurious Plants lists nothing more than occasional vomiting as a side-effect of ingesting the leaves. Not that this is suggesting that anyone should try eating them.
Cat owners should note that it's poisonous to cats, but only mildly so. As poinsettia belongs to the euphorbia family, it shares the characteristic of possessing an irritating milky sap. So, you might want to put it somewhere away from your pet's favourite spots, but don't worry that it'll keel over with the first bite. According to Birmingham Cats Protection , symptoms could include excessive salivation and vomiting, diarrhoea and tremors but your cat should recover once the plant is removed.
That page includes other plants that don't mix with moggies. For an ultra-long list that surely has cat lovers tearing their hair out, visit Moggies, Home of the Online Cat Guide.