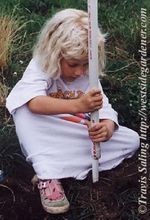 Beware Easter weekend. It's dangerous. It is when we get our strongest urge for home improvement.
Indeed, a couple of years ago, Asda claimed to have pinpointed the exact time it all kicks into action: between 10 and 11 am today, Good Friday, when I guess we all rush through the check-outs clutching nails and two-b'-two. They even tried (in rather poor taste, given that it's a major religious festival) to rename it Fix-It Friday.
The danger arises, as Jeff Randall wrote in The Daily Telegraph, in "a chronic disconnect between the ambitious DIY-er's expectations and his ability to hit the nail on the head." According to RoSPA, over the average bank holiday (and Easter weekend is longer than average) DIY accounts for 1400 serious accidents.
Naturally, insurance claims tend to double. Churchill Insurance, on Love Your Home, say the least damage occurs on Good Friday (when people are out, buying supplies), the most on Easter Monday, presumably when the improvement is switched on and everybody gets electrocuted.
So, for all of you who feel the urge to build something, but secretly understand your own butter fingers, I've found what might be your ideal building material.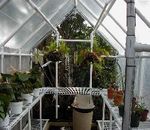 It's PVC piping. For ideas of what to build in house and garden, have a look at pvcplans.com, where someone's come up with a construction to beat tomato blight, as well as the greenhouse pictured, and a cold frame. 
And don't miss the instructions for a cloche and a "hoop-house" (that's polytunnel on this side of the Pond) at Westside Gardener, an enjoyable website run from Washington state by past Gardening Editor (at Suite101) and "winter gardener", Travis Saling.
For a UK supplier of PVC joints and fittings, see IXI-Devices.
Good luck!