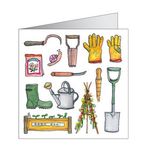 Presents for gardeners are easy to find. Cards can be another matter. Scenes of flowers abound and you'll often find something funny involving sheds, but otherwise really pretty, relevant cards can be few and far between.
Equally, while I'm usually just glad to find a uncreased piece of paper big enough to cover the gift, some people put as much thought into their giftwrapping as they do their cards. And it's touching when you realise how much thought a friend has given to the whole birthday "package".
I constantly intend to do better and have found a super range of cards and wrapping right on my doorstep. Even better, the cards only cost £1 (less when I buy ten or more), which is a bargain these days. I can now give birthdays a gardening theme from the card to the wrapping paper to the gift tag. I might even enclose a bookmark as well.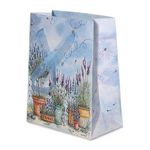 Phoenix Trading have sold cards since 1994, when three mothers got together over a kitchen table and bought £30 of cards wholesale. Since then, the company has sold over 100 million cards, all through local, independent traders selling at fairs, coffee mornings, school fundraisers etc. Their full range is on their website, as well as links to interviews with some of their artists.
One of the nice points of the website is that once you've found an artist you like you can search for more of her work. Amanda Loverseed is one of my favourites. She's created over 300 cards in 9 years, including the Gardening Images (pictured above) and lovely Lavender design which is available across the full range of products.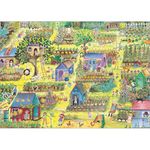 Alison Vickery has painted fifty of Phoenix's floral and wildlife pictures.  A keen gardener, she tries to get over the character of her flowers and how they grow.
The artists have got certainly plenty of scope to do more. Apparently, the British send an average of 55 cards a year, more per capita than any other country in the world. If you don't know your local Phoenix trader, you can enter your details on the website to be put in touch with the nearest.