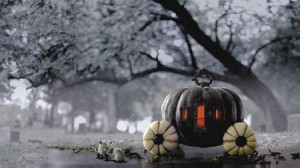 One of the most popular pages on Weeding the Web at the moment is Cinderella's Pumpkin Coach. I doubt it if it's all down to the Bishops' Conference's call to shun the excesses of Halloween, but a glance at America makes me wonder if the desire for sweeter things hasn't to do with people, there and in this country, tiring of the ghoulish emphasis of 31st October.
Nothing seems to represent Halloween better than the pumpkin and personally I enjoy carving a gap-toothed grimace into something that will otherwise just go for soup. But websites offer all sorts of unexpected, non-harrowing alternatives.
Quite why a Boston Terrier should be a suitable subject for decorating a Hallowe'en pumpkin, I haven't a clue, but you could download a carving pattern for this from Masterpiece Pumpkins, as well as for portraits of personalities. Perhaps the very weirdness of carving Dean Martin or Marilyn Munroe into the face of cuburbit makes it a suitable subject for Hallowe'en. I just hope it's not an assumption about their souls.
So Halloween = pumpkin = carving, but how about Halloween = pumpkin = Cinderella? It's a concept growing in popularity, I feel. While Master Pumpkins also offers a template for Cinderella's Castle, a card downloadable from Hallmark, not only bears the Disney version of Cinderella and her pumpkin coach but - get this - the wishes, "Hope your Halloween's delightful" and "Hope it's like a bright, enchanted fairy tale come true." It also plays Bibbidi Bobbidi Boo. (Go on, you know you want to - you'll find the Play button when you go to personalise the card.)
It's all a far cry from witches and broomsticks and bobbing for apples. But for those of you who fancy a rather gorgeous pumpkin centre piece, see the version of Cinderella's Pumpkin Coach from Hallmark magazine. Instructions (and, frankly, a better image than the one above) can be found at the blog Arts and Dafts.