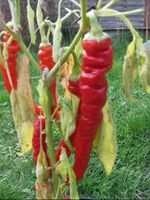 If overwintering this year's pepper plants doesn't appeal, you might instead like to consider Emma Cooper's approach.
When she last posted on the subject, Emma had sprouted pepper seedlings earlier in October. Given that the difference between a good gardener and a not-so-good is about a fortnight, why not give it a go now? Although it's rather late, if you have good light and a heated propagator, you should get something started.  Regard it as an experiment and let us know how it goes!
Emma transplanted them, repotted as needed, and gathered her first fruit the following June. Given that mine have only finally ripened in the last month, that seems darn early to me!
Incidentally, I managed to buy a pepper plant last spring. If anyone has the remotest idea what it was that I bought (see picture), do let me know.