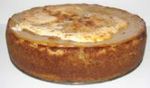 Just thought I'd slip in a quick one about Halloween as so many of you will be choosing your pumpkin and lovingly carving a masterpiece into it this week. You can make your carved pumpkin last longer by following the instructions at Pumpkin Patches and More. You'll need bleach and Vaseline. 
And, instead of making the ubiquitous pumpkin soup with the innards, how about trying this recipe for Pumpkin Cheesecake?
For anyone confused by the use of American cups in the recipe, 1 cup = approx 8 fluid ounces, which = 125mL (for more measurement conversions, don't forget OnlineConversion. If you try the recipe, let us know how it turns out.