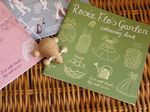 December just around the corner, and naturally I'm not the only one whose thoughts are turning to Christmas presents.
Over at My Tiny Plot, Gillian has given a rundown on My Favourite Garden Notebooks and includes some rather attractive possibilities for the gardener in your life (or you, of course, if you print out the page and leave it lying around in a pointed fashion).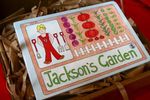 One that particularly caught my eye, for the kiddies, is Rosie Flo's Garden colouring book (part of a series where you add limbs, as well as colour in). But Gillian has her own contribution to make to children's presents with her board book Jackson's Garden, which you can order via Etsy.  It's a sturdy book, which sees Jackson persuading a snail that leaves are better than lettuces (if only!) and Gillian's drawn pictures which offer opportunities for discussion and counting vegetables, allowing you to educate your little one while they're involved in the story.