Last year, I bought a Paperwhite Narcissus bulb (yes, just one). Presumably it was some latent memory of something I've once read that made me decide to grow it in a bulb vase. It failed miserably. Long green leaves sprouted in abundance, and fell over. Flowers were conspicuous by their absence.
I'm afraid the vase got put in the outhouse and left, until earlier this year when I realised the bulb was sprouting again. Ho hum! I certainly wasn't going to give it window-sill space, but I added water (and a drop or two of liquid fertiliser, as it hadn't had any input since its excrable performance) and let it do its worst.
So, stuck in the cold, and pretty much neglected, it's now producing these. Fewer leaves than last year, much fewer, and stubbier, roots (which last year were very long and filled the glass) and the promise of lots of flowers which have an extraordinarily pungent smell (not sweet, barely floral).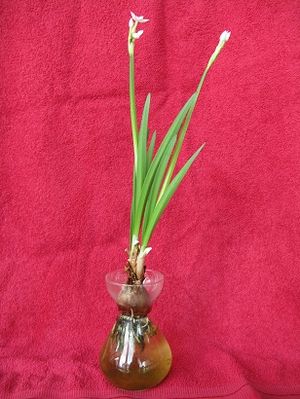 I have to admit that I thought growing narcissus in a vase had to be a daft idea. Now I find that Paperwhites are generally grown indoors.  And that old wives' tale about feeding a child gin to stunt its growth? Well, perhaps it's not so far-fetched after all. A touch of alcohol might have stemmed its leaf growth last year.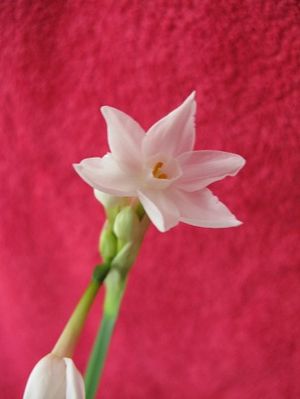 Nip over to May Dreams Gardens to see what else is going on this Garden Bloggers' Bloom Day.