After its 100th anniversary last year, Chelsea Flower Show features a different centenary this year. Dotted around the grounds, you find commemorations of WWI. I feared an outbreak of flowery mawkishness, but a light touch is evident, with some stunning displays and more subtle references.
No Man's Land has received enormous attention so I won't linger.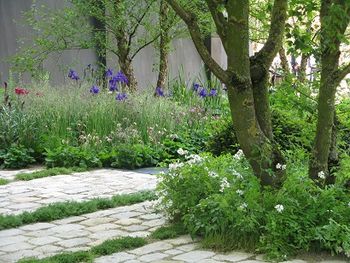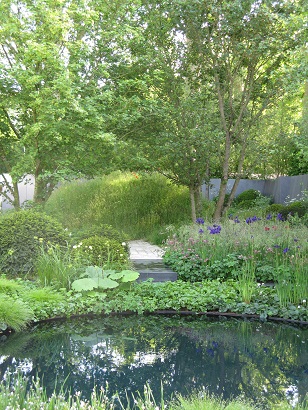 It gained Gold, which is a great arrival for Charlotte Rowe who, highly experienced and award-winning, hasn't actually designed a Chelsea show garden before. The gorgeous booklet accompanying the garden explaining the symbolism of its three sections (shame you can only see some of it when wandering in the garden).
The central panel feature didn't work, in my opinion. Charlotte Rowe described it as recalling a bunker, the parapet of a trench, or ruined building but its powerful presence, combined with the heavy horizontal slit, seemed rather reminiscent of Gort's visor in The Day the Earth Stood Still.
Altogether, though, it was beautifully put together and represented land reclaimed by nature with artful conviction.
Over in the Artisan gardens, The Potters Garden was an altogether gentler take. Inspired by Farnham Pottery, it featured original artefacts and cottagey planting, recalling one of its clients, Gertrude Jekyll. I'd have liked to see more acknowledgment that all the potters came back from the war, rather than the usual message of death and remembrance, but I guess life-destroying bullets and shells rendered harmless could be seen as a nod to that fact.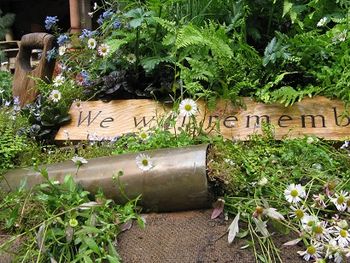 The terracotta tiles of the path were embedded with bullets: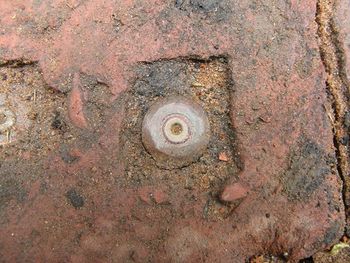 The shadowy figure of a bas-relief soldier, carved in wood.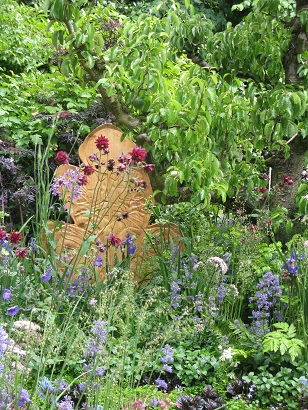 Meanwhile, in the Grand Pavilion, Birmingham City Council wows visitors with its trench, complete with fire-step and periscopes. What can I say? Clever and emotionally balanced, and as stunning as you'd expect these seasoned exhibitors.
Altananthera was used in various colours to represent the mud walls of the trench: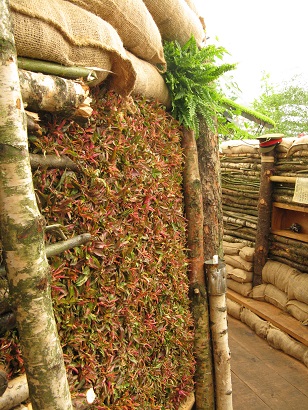 Whistles manufactured by ACME, originally the Hudson Whistle Company: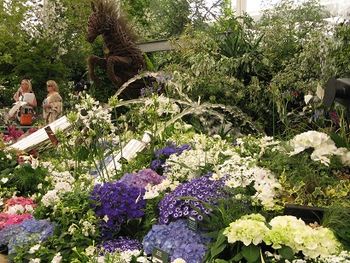 The colour of the poppies is the result of natural oxidation of the iron: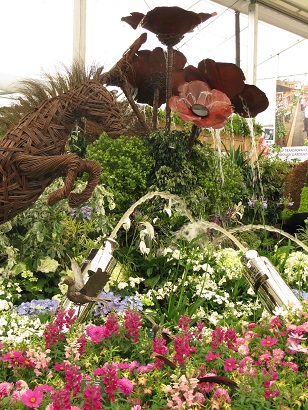 In the far corner, Heucheraholics produced an eye-catching display with a war horse released from duty: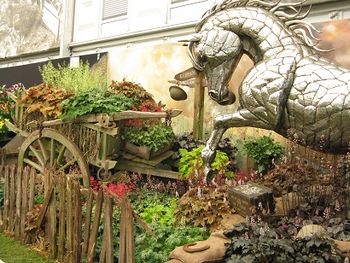 Our view of the war has been so highly coloured by the poetry it produced that it seems impossible to reference one without the other. Well-known figures turned up at intervals on Press Day to recite on a Portland stone plinth on No Man's Land: Mark and Gaz at Alternative Eden spotted Jeremy Paxman reading Wilfred Owen. My treat was Rowan Atkinson giving a sensitive rendition of Rupert Brooke's The Dead.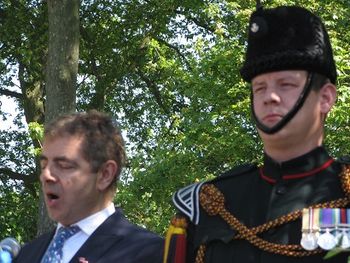 And on Paul Thomas' stand, Edward Thomas expert Ann Harvey read his poetry, including, of course, the heart-tugging Adlestrop.  Lettercarver in Wood, Paul's created a delightful evocation of the station, with bench and station name.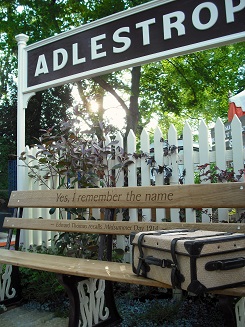 Always near the top of polls for Nations' Favourite, the poem has gained in poignancy over the years. Adlestrop is no more, felled by the Beeching axe in 1966. And I fear more modern generations won't quite understand the imagery, having only experienced an unknown stop seated in air-conditioned carriages by sealed window units, unable to hear the blackbird.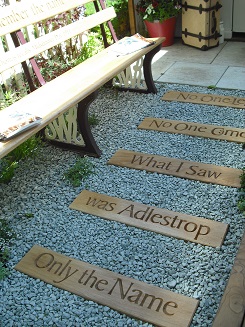 Paul's stand won him 5 gold stars in the Trade Stand judging and, not only is it a lovely demonstration of his talent, but, as a salute to the Great War, this subtle reference is all the more poignant.