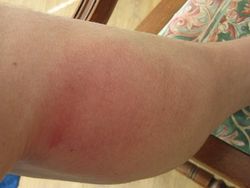 Gentle pottering, late summer sun, the buzz of bees. Somehow, you just don't expect gardening to get up and bite you, do you?  But that's exactly what something did to me on Monday evening.
I wouldn't mention it, except it's made me rethink my behaviour in the garden and it might prevent the same thing happening to you. (It also preoccupied me for most of last week and, honestly, what's a blog for if not to share?)
I was kneeling in the shaggy grass near the compost bins when something nibbled - probed, penetrated? - the inside of my calf. I saw nothing at first, then wondered if the tiny black thing that wandered across my skin (the size of a rice grain) had something to do with it, and thought nothing more of it.
Hah! What the hell was that vicious little beast?
Next morning, at the site of the original pain my calf was red and there was tiny fluid-filled blister. By lunchtime the whole inside of my calf was red, swollen and burning hot. The tissue near the bite was hard and congested and it hurt to walk. The bite itself oozed. The skin felt tight enough to burst.
By evening, when Husband finally saw it, I was hobbling. "I did tell you," I pointed out, with some asperity, as he said that if only he'd known he'd have picked up the insect venom suction thing-y that (for some unfathomable reason) he'd once bought and now resides at his father's house. Quite obviously our main regret at this point was that this never-used piece of emergency kit was missing its moment of glory.
He applied some excruciating massage to the area (he's qualified as an osteopath), cleared some of the congestion and suggested I'd live, while I was wondering if you could die of itching.
Of course, you may wonder why I hadn't skedaddled to a doctor or chemist. Well, given that grim images of gangrene leap easily to mind (or at least, my mind) whenever I pick up a splinter, I had already consulted the inhouse doctor (or Internet) and can highly recommend the NHS Choices rundown on "bad insect bite".
I was in the midst of a Large Localised Reaction (LLR).
But otherwise I felt fine - no temperature, no sickness, no aching joints. The swelling and redness spread discernibly but in a contained manner, there were no enlarged lymph nodes, and no red lines ascending the thigh (which would have indicated spreading infection). So I remained (moderately) sanguine.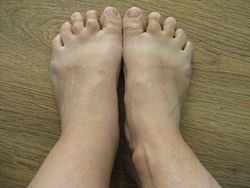 By Thursday (Thursday, note) I could walk without pain, it was barely hot, all scabbed over but - what the...? - my lower leg and ankle had swollen up. 
Only on Friday, after frantic massage (this time from me - my ankles are, for heaven's sake, one of my better features), can I say that the leg finally looked normal, if still feeling extremely itchy. And I am humbled and relieved at the amazing ability our body has to contain and vanquish poison and infection.
Does anybody have any idea what it might have been?
Of course, I might have suffered an idiosyncratic allergic reaction, but could it have been the Blandford Fly?  This vicious little brute is well-known in Dorset, where the yearly controls that seem to have kept it in abeyance are under threat. And, although it mostly frequents watery areas, and is supposedly most active in May and June and in the middle of the day, it seems to be spreading, with possible thanks to garden water features. This July the Gloucestershire Echo queried if there were now Blandford flies in Cheltenham when a doctor and his wife experienced painful bites.
Blandford Fly or no, I'll aim to be a little more circumspect. Aiming to convert the late summer sun to as much Vitamin D as possible, I was in shorts, but I think jeans might be more to the point, at least in long grass.  And an anti-histamine in the medicine cupboard seems a reasonable addition.  All precautions that the Oxonian Gardener found useful for the same reason.
If you think you've had a similar bite, let us know and let's see if we can map anything out around the counties.