There's virtually nothing out in the garden, apart from the Camellia sasanqua I featured last month and the lonicera fragrantissima that I wrote about in January (it's a bit earlier this year). The climbing rose has popped out a few unseasonal blooms (rather like VP's unexpected honeysuckle), but I think it's a bit embarrassed by its impulsiveness.
We're not completely without colour, though, because in the corner, flashing orange, is Iris foetidissima - Stinking Iris or, more kindly, Beefsteak Iris (crush the leaves and they smell like beef crisps).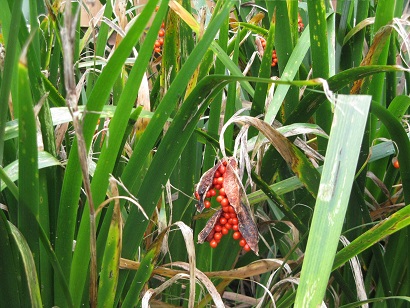 I have a love-hate relationship with this plant. The flowers are a sort of dirty mauve and virtually invisible in summer, but its dramatic leaves provide great contrast in the bed. But individual leaves turn ragged and brown, so except at in spring the plant looks pretty messy.
They have a reputation for thriving in dry shade (though, next door's leylandii proved more than a match when I tried that) and in more favourable circumstances it spreads. And spreads.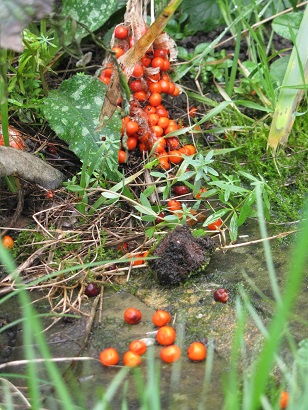 The berries spill over the ground and seems to seed like weeds, so I've got small iris springing up around the garden where, unnoticed, they take a firm grip of the soil and are difficult to extract. But having seen a blackbird jump to grab a berry from a cluster, I can see they have their uses.
You can tell how common it is by the number of names for it: Blue seggin,Gladden, Gladwyn, Roast beef plant, Scarlet-seeded iris, Stinking gladwin. On balance, I keep them because, as regular visitors will know, if it's low maintenance, it's pretty welcome. And, seemingly bomb-proof, this iris is very low maintenance.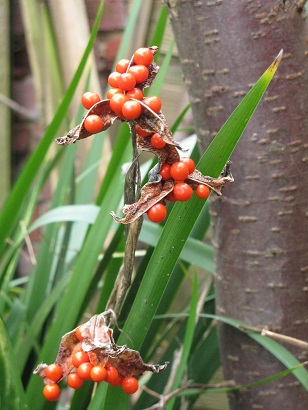 And that flash of orange on a grim grey day like today is really rather cheery.
See what else is colouring gardens around the world at May Dreams Gardens, host of Garden Bloggers' Bloom Day.