I began to think this year's Hampton Court Flower Show was going round in circles. Literally. The curve that wriggled its way into Chelsea this year has felt peckish and bitten its tail. Circles are all over the place. (But more of that later.)
Anniversaries are equally abundant. Most prominent, of course, Hampton Court Flower Show, apparently amazed to find itself 25 years old: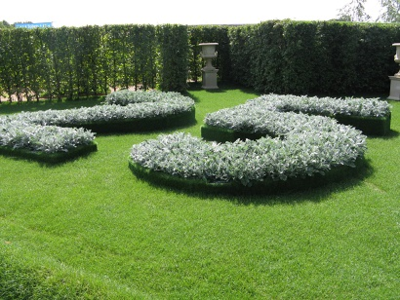 Though, you'd have been hard put to get lost inside...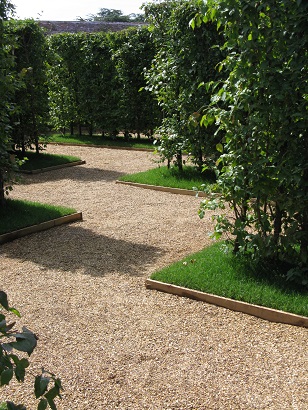 ...there was an unexpected encounter: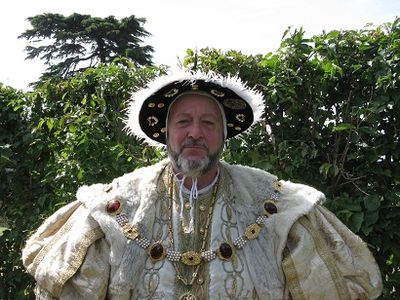 Nearby, Rolawn had commissioned Tony Smith to create a massive turf sculpture to celebrate 40 years as turf growers and promote their Keep on the Grass campaign. Rolawn's Emily Kirkland said, "I can't see into the bottom. Anything might be there." (It wasn't.)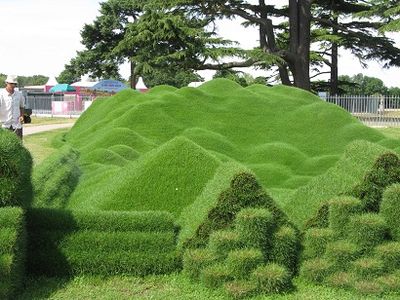 They also provided my one and only glass of bubbly for the day. Thank you, Rolawn!
More greenery at Agrumi's We're All Mad Here!, where they were celebrating 150 years of continuous publication of Alice in Wonderland: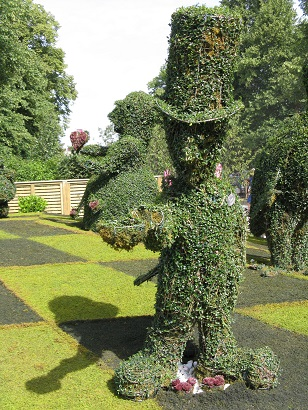 Alice also inspired The Tea Party, designed by Charlie Bloom (she in the dress below).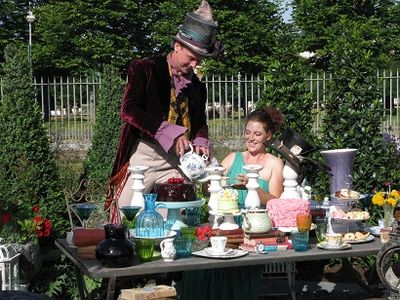 It was full of lovely little touches...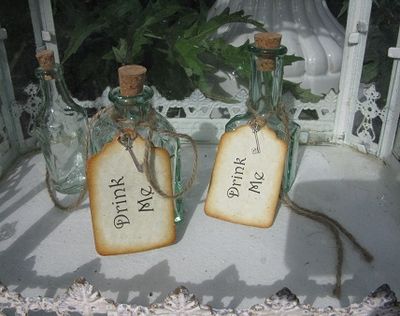 ...and was the sort of formal small garden that Charlie, who carries out restoration on private historic gardens, would like to see more of.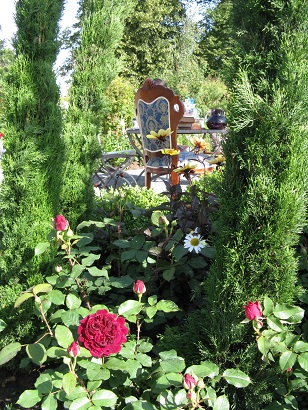 The judges didn't feel the same and only awarded Bronze, though she had wondered if they'd approve of the "madness" of the shaggy box hedges. (I guess not.)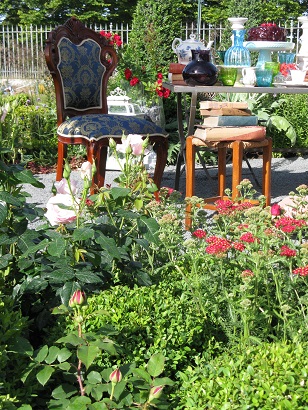 Who else had an anniversary? Oh, yes!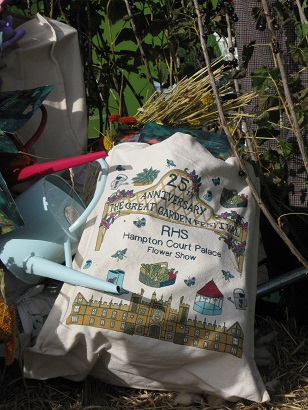 Next door to The Tea Party was Botanica World of Discoveries Winnie the Pooh Begins his Journey, referring to the 90th anniversary of the Bear's first appearance in 1925.
It was cute: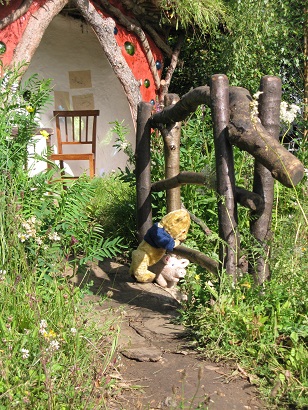 And I liked the exuberant wildflower turf roof: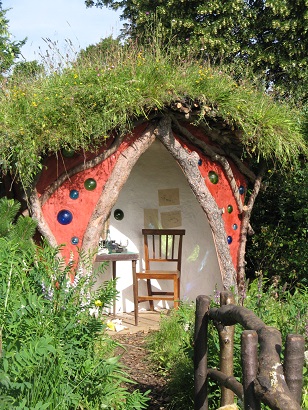 It didn't quite have enough magic for me (and when on earth did Piglet look like that?) - a problem, I guess, when you're conjuring up people's childhood reading.  Still, once again Helen finds herself staring blankly at the judging - it won Gold and Best Historic Garden.
Also in this strange little section - an orphan row which, IMHO, should be marched firmly over to the other side of the water with the rest of the gardens - was Amnesty International Magna Carta 800 garden.

Cool, inviting...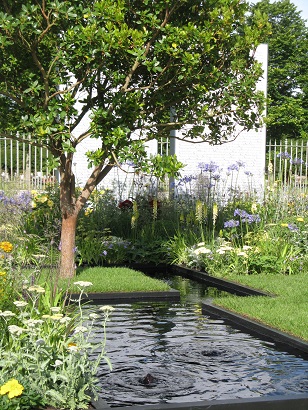 ...and very yellow. (The colour was paler at the back, getting stronger towards the front, referring to the progress of human rights. In the picture below I think it makes the garden look bigger - sneaky!)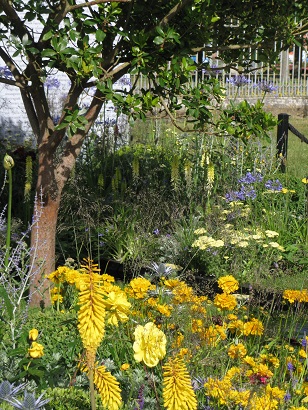 One of the "new" Flower Boxes got on that particular bandwagon. DCCC by Stuart Meeson - go to his website for a fascinating intimation of why he might have chosen this shape - subconsciously, of course.)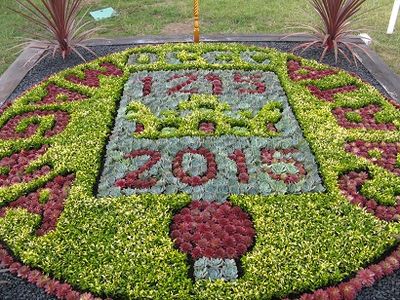 If you still haven't spotted its anniversary, go to the back of the class.
In comparison, Scotty's Little Soldier garden was almost still in nappies, celebrating a mere five years in the charity's existence.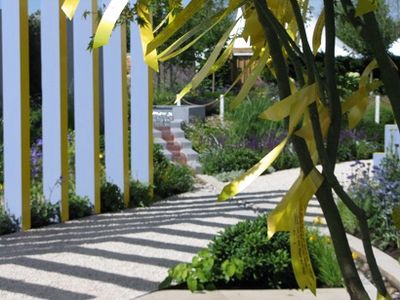 Not easy to photograph, but I like the way the shadows break up the wide path - necessary as Graeme Thirde designed it as a walk-through garden (of which there should be more). The ribbons?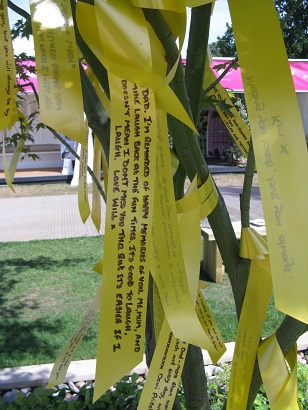 Printed with messages from children who have lost their father.
You wouldn't think there could be many anniversaries left, but no...
The Queen Elizabeth Foundation is celebrating its 80th anniversary and the garden represents the life-changing work it undertakes.  It won Gold and Best Summer Garden. Again, I was a bit bemused by the Best award, as it looked a bit like the sort of corner you find at the end of a garden where its been nicely finished but nothing happens. The mirrors were cleverly placed - it took me a moment to realise they were there.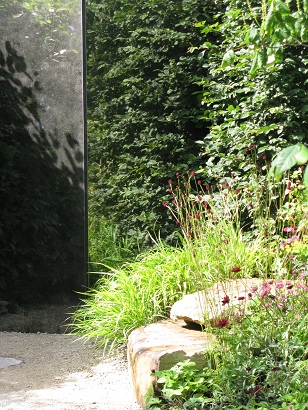 Back to history: Waterloo (200 years) made a reappearance (after Chelsea this year) with the Hougoumont Farms Kitchen Garden (annoyingly I missed it) and Vestra Wealth: Encore - A Music Lover's Garden combined inspiration from its being 500 years since building began on Hampton Court Palace and from the fact that Handel's Water Music was played on the Thames (which runs past etc) - although that debuted in 1717 (another near miss).
What you couldn't miss, though, was the huge cake Vertigarten Celebration Cake - 3456 plants in Vertigarten modules.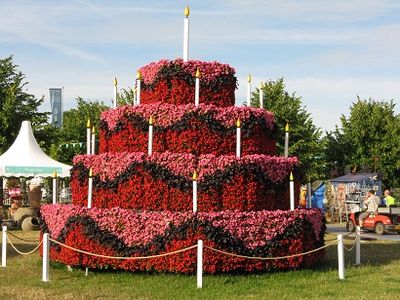 I thought I recognised it. I first saw it last year when I visited Ball Colegrave: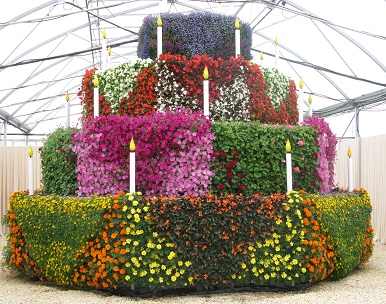 Preferred the planting last year, but you have to admit the surroundings don't have the same power to...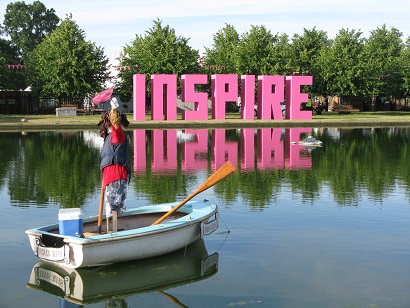 (Yes, it's a scarecrow in a rowing boat. No, I'm not sure, either.)