Colours, I discovered some time ago, have a hierarchy. Yellow - and by extension, orange - as far as many gardeners are concerned, is most definitely at the bottom. I'm not entirely sure why, although many blooms are pink and that doesn't make a great combination. Perhaps because many weeds are yellow, banishing the colour demonstrates the "cleanliness" of your patch?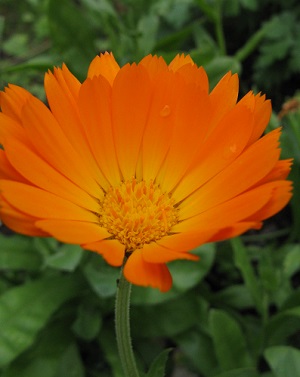 I rather like it, especially at this time of year, when it seems to create a late splash of sunshine, much needed in the grey rain.  In fact, I've got a bit of theme going on this year.  A range of marigolds from a free packet of seeds supplied by World Vision: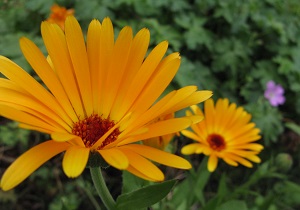 Osteospermum Blue Eyed Beauty, supplied by Thompson and Morgan. This has been a real success, repeat flowering, short stems, compact mound and just pretty, pretty, pretty.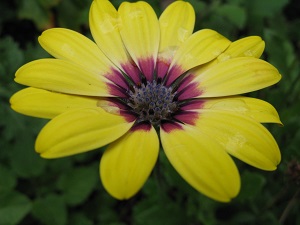 I first saw them last year at Ball Colegrave. For those interested in such matters, they are a touch more environmentally friendly than some plants. Nurseries generally like to raise stock early to get more sales, which often means using heat. These can be grown cool, so saving energy. Here's what they looked like last year.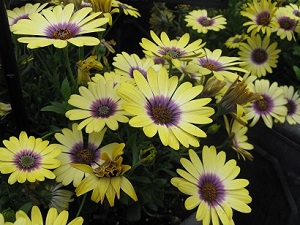 They're positioned close to the marigolds above, and to crocosmia elsewhere.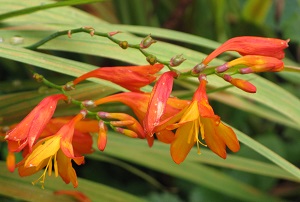 Finally, a short sunflower. I'm not a fan of tall ones, which for me just get leggy and messy. This was grown from seed saved from a short variety given to me by Mr Fothergill's. I'll be saving it again, I think, assuming the birds don't get to the seed heads first.  I have to admit the bloom went over a couple of weeks ago, but I couldn't resist putting it in here, as it's been adding to the mix for some time.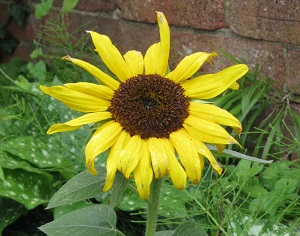 I think it's Little Dorrit. (Please ignore the horsetail in the background!)
This is part of Garden Bloggers' Bloom Day, run by May Dreams Gardens. Pop over to see what else is blooming around the world.