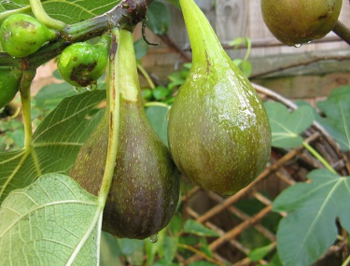 Normally, this time of year, we have the Ceremony of The Fig. From the Mighty Fig, The Fig is solemnly removed, laid on a red velvet cushion, carried in procession, worshipped for a few hours, then cut precisely with a silver knife and consumed with gem-set teaspoons.
OK, slight exaggeration, but you get the picture. Our Brown Turkey, now around five years old, has been sparing in its offerings. This year? Pah! Another fig? Throw it in the bowl with the others. One's a bit mouldy? No sweat.  This year, we've had, ooh, twenty? Thirty? We've had pounds and pounds. At last, I thought, our fig tree has grasped the point of its being.  From now on, we'll have firkins of figs every year.
But I suspect not. Everyone's talking about their fig harvest. Best for years. Nina Baxter (@landgirl) tweeted a picture of a bowlful. Michele Chapman has a very tempting Figgy Cheese Tart on Vegplotting. Apparently, it's been great in the States too (Andrea Yeager offers Fig Pickles and Fresh Fig Cake).
I fear that this year has rather changed our perspective. The Ceremony of The Fig will be a thing of the past. If the Mighty Fig only gives one fruit next year, we'll probably just kick its trunk in revenge.