The role of art in the garden is a recognised debate, but Tate Modern has turned this on its head by putting gardening into art. Abraham Cruzvillegas's Empty Lot, the latest installation in the Turbine Hall, creates a receding triangular vista of triangular raised beds.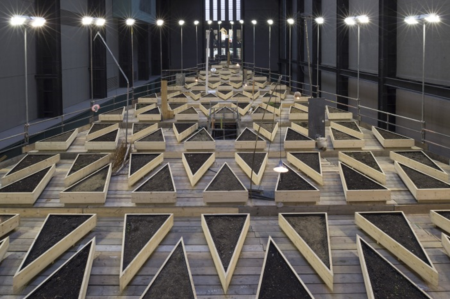 The platforms hold a geometric grid of 240 wooden planters filled with compost and over 23 tonnes of soil collected from parks around London, including from Peckham, Haringey and Buckingham Palace; they'll be kept lit and watered during the six months of the installation, during which time visitors will get to see what grows.
Now, occasionally a piece of conceptual art raises me to enthusiasm. Olafur Eliasson's The Weather Project is a Turbine Hall installation that still resonates. He put a giant sun bathed in mist at the far end of the Turbine Hall to explore "ideas about experience, mediation and representation".  It also created a mysterious atmospheric beauty that made people linger to enjoy the peace.
But what has Empty Lot to offer? Perhaps gardeners are disadvantaged here. There's nothing that Cruzvillegas has done that doesn't happen every year in our own gardens in that weedy corner that we keep meaning to do something about. The only difference is that we'll get to see a lot of weedy corners corralled into the same space. There might be a moderate interest in comparing the seed content of Buckingham Palace with that of Peckham, but, assuming they didn't dig up a daffodil bed, I personally am not expecting an enormous difference*.
I'm not the only one:
Indoors, outdoors #emptylot by Abraham #cruzvillegas @autoconstruido @tate modern, and @CTCaravanserai last month pic.twitter.com/45rzfKrd1m

— JOHN JEFFERS (@ee92jlj) November 1, 2015
The Tate says:
The unpredictable nature of the work, which may grow and change from one week to the next, provokes questions about the city and nature, as well as wider ideas of chance, change, and hope.*
While conceptual art is often immense fun to visit, I generally have a problem with it.
First, you are left with the paucity of your own thoughts, which is why you should always visit any installation with at least one other person, who, with luck, will have different thoughts.
Secondly,  anyone can pretty much read anything into any object in any position.  So, basically, a conceptual artist can think up any installation and submit it, and it'll mean something to someone.
Empty Lot includes artistic references. The triangular shape points east-west (not sure what the relevance is of that. Obviously, we all know that raised beds are best ranged north-south to catch the passing sun) and, says the Tate, recalls the strong diagonals of Russian avant-garde artists such as El Lissitzky and the geodesic domes of visionary architect Buckminster Fuller. Lissitzky was part of the Soviet Constructivist movement, which believed that art should have a social and political impact, although he was most pioneering in typography and book design, rather than 3D objects.  Geodesic domes are often used to grow things in - so it's a nicely oblique reference.
But it's pretty bleak on its own account, at the moment. There's a certain satisfaction in the sharp lines taking you off into the depth of the hall, and later, when it's bushier and grassier the paths may disappear into a green-massed distance. But, just in case you're looking forward to wandering into it, here's what the press release says: 
Visitors will be able to explore underneath the platforms by wandering through the supporting scaffolding and view them from above on the Turbine Hall bridge.
So, we can see its bottom but can't walk through it. So much for comparing the plants. So much for getting a feel for difference and detail. I predict it's going to look pretty homogeneous, looked at from the bridge. And I really can't summon up the enthusiasm for scaffolding expressed on Philippa Ellis's Arts Aloud blog. Anyway, I seem to remember another installation that created a similar effect, though the details escape me.
Moving on to analogies, "in the middle of a busy commercial area of London, the 'empty lot' is a space where nothing is produced but where change might happen." I wonder if that's even the case in his native Mexico?  Here an empty lot disappears into a whirl of corporate construction as fast as you can say 'knife'.
Still, what questions about nature might it be asking about the city and nature? 
How far does the rigid structure of a city puts limits on the life within it?
How much does the artificial life of the city create unnatural reactions? (After all, they are trying to make things grow through winter.)
Or what about the "wider ideas of chance, change, and hope"?
The struggle for self-expression is found in the most awkward and desolate places.
Put care into what seems unpromising and the results will (might) surprise you.
Challenge me further and I might come up with a fully fledged platitude. Which is part of my problem with it: nothing I've suggested is very new. My lack of imagination, perhaps. One tweet describes it as "a sculpture made out of hope".  Well, I'm hoping that you might come up with other ideas of what Empty Lot might be saying.
One point which hasn't been mentioned in connection with Empty Lot is the teeming nature of the soil. Emphasis is concentrated on the emptiness. As one tweet asks: "From nothing, what may grow?" It would be wonderful to think that in this, the International Year of the Soil, at a time when world soils are maltreated and becoming dangerously impoverished, Cruzvillegas is actually trying to redefine the concept of soil itself, underlining its liveliness and how different treatment, environment and care decide whether it produces feast of famine. I don't get the impression, though, that his intention is anywhere near as enlightened.
Quite obviously a visit is in order, though I can't see much point in rushing there until most plants are well above the sides. There's plenty of time. The installation runs until 3rd April, 2016, and you can follow its progress at #emptylot. Requests for plant identification have already started, which is definitely something for gardeners to get their teeth into.
In the meantime, do comment below on what you think Cruzvillegas might teach us.
*According to Philippa Ellis, there are rumours that people are "seed-bombing" the beds. So, what emerges may not be so "accidental" as originally intended.