This time of year is so predictable. Start of January? New Year, New You - diets, decluttering, personality refits. It's all there in the mags and newspapers, every year.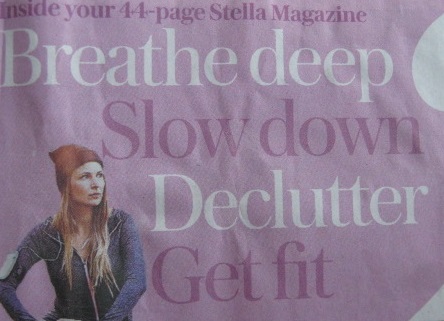 Do you find it seductive? I must admit I do, a bit. The implication is that we can do better, and will do better. Even if, not so deep down I, for one, know it's pretty much twaddle. In fact, if you want a wryly amusing rundown on why it's twaddle, you can't do better than Oliver Burkeman's recent article in The Guardian. In it, he says:
Old You is the last person you ought to trust when it comes to designing a New You... For a start, Old You doesn't currently do any of the things he or she claims will make New You happy and fulfilled. (Would you trust a personal trainer who chain-smoked through your sessions and never worked out? Exactly.) Moreover, Old You doesn't even seem to like himself or herself that much, otherwise a makeover wouldn't be on the agenda. Clearly, Old You has some issues. Lastly, Old You probably has a long track record of trying and failing to implement change – and yet you're going to trust this shifty character with your future?
Still, the desire for change remains, and testament to this is currently on my landing - the pile of old clothes which I have recently extracted from the lesser-known recesses of my drawers. It's all part of that other annual chestnut, the detox.  In fact, Dry January seems so popular now that, quite possibly, you're denying yourself alcohol as we speak. Personally, finding mass movements alarming, I surrender myself to some of the fine port and single malts that have been gathered in for Christmas delight. (Abstention, be damned! We didn't buy them just to have them languishing unloved for weeks on end.)
But the thing that makes me laugh is that, if we want to be good to ourselves, we really don't have to go for exotic diets with weird, wallet-worrying superfoods at all. Just eat seasonally. Cabbages and leeks possess loads of health benefits, are low in calories and, should you lend credence to the idea of detoxing (which, let's face it, the medical world generally thinks is a hoot), stuffed full of substances raring to go.
According to the British Leek Growers' Association, leeks are ideal for detoxing because they contain potassium, folic acid and vitamin C. Leeks can also help reduce cholesterol levels and rid the body of uric acid (which play a part in gout and kidney stones).  They're also full of anti-oxidants and rich in iron, vitamin B6, folate and vitamin C, which should help keep winter colds and sore throats at bay. And - ta-dah! - an average serving of leeks (80g or one leek) contains a mere 17 calories.

So, here's a seasonal recipe. The seafood's useful too, as it'll contain zinc, which is also good for warding off colds and viruses.
Leek, Mussel and Prawn Hotpot


Makes : 2 servings
Preparation Time : 10 minutes
Cooking Time : 10 minutes
INGREDIENTS
2 x 5ml tsp Light and mild olive oil
2 Cloves garlic, crushed
1 x 15ml tbsp Lemon grass paste
350g/ 12oz leeks, trimmed and sliced into 2cm/ ¾ " rounds
500g/17 oz Mussels in shells, rinsed and scrubbed
250g/9oz Shell on prawns
½ L/ ¾ pt Boiling water or fish stock
75g/ 3oz Low fat soft cream cheese
Sprinkling
2 x 15ml tbsp Ground sea salt and black pepper
Fresh chopped parsley

METHOD
1. Lightly sauté the leeks, garlic and crushed lemon grass in the oil to soften. Add the mussels and prawns and cook over a medium heat for 2 – 3 minutes until the mussels open. Pour over the stock, cover and simmer for 3 minutes.
2. Drain stock and simmer until reduced by half. Stir in the cream cheese, seasonings and parsley along with the leeks and seafood. Heat until just simmering.
3. Serve with crusty bread

Nutritional Information: Approximate values per serving
Energy: 260 Kcal, Carbohydrate: 11g, Fat: 9g
Actually, the British Leek Growers website has other interesting-sounding recipes. And if you've got cranberries or Stilton languishing in the fridge after the festivities, then you'll find ideas of what to do with them too (in conjunction with leeks, of course).
I can't fathom, at the moment, how I managed to forget to sow leeks this year and am, therefore, relying on the greengrocer. Notes have been made to ensure I don't make the same mistake this year. In the meantime, for more about this veg, Emma Cooper has just posted some leek glutbusting advice.