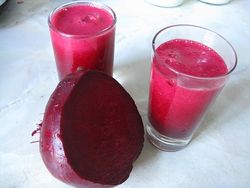 Every so often a list appears in a newspaper - Top Ten Least Used Kitchen Gadgets - and you can be sure that, along with the bread maker and the sandwich maker, a juicer will be among them.
I was reminded of this in a recent post by Wellywoman. Juicer sales* are up by 210% in John Lewis but, she says, anyone who has ever owned one "knows the reality. You use them once or twice then you realise they are a nightmare to clean, they spend a year in the cupboard before you give it away to some unsuspecting relative."
NO, NO, NO! Honestly, are you wondering if it would be a good idea to buy one? Do it!
Quite why we felt moved to buy a juicer has been lost in the mists of time, but our first - a Kenwood -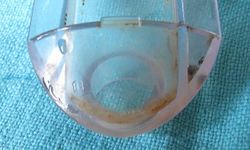 lasted 14 years. When it finally failed in the face of daily use, we gulped at the modern prices and bought one from, yes, John Lewis.
This too comes in for daily use. Yes, it's a pain to clean. I mean what idiot - what idiot? - thinks tiny pointed pockets you can barely reach with a pin, let alone a washing-up brush, are a reasonable design? You possibly don't want to know that I tend just to close my eyes to parts where contact with fresh juice seems minimal and blitz them with curses every so often.
But it is a joy. I grow an inordinate number of beetroot. Why? Because it's heavenly juice to drink. Here are some lovely combinations:
Beetroot, apple and orange.

Beetroot, apple and carrot.

Beetroot, apple, orange and carrot.

Beetroot, apple and celery.

Beetroot, carrot and celery.
In fact any combination of the above, so long as you don't mix orange with celery. 
At this time of year it's particularly enjoyable. The russet apples are now softening, even in the chill storage area. Some of our other apples suffered from codling moth. So these go in the juicer (I cut the brown bits out). Beetroot are gradually harvested from the beds (I "store" them where they grow. It seems to work). After nearly 20 years of daily juicing, I find shop-bought juice tastes thick, heavy and dead while juice from fresh fruit and veg packs a zing on a winter morning. And the colour is beautiful.
But am I delusional? you're wondering. After all, there's that Top Ten list that argues I might be. Take a closer look.  The Daily Mail article lists the unloved gadgets along with "the percentage of people surveyed who own, but rarely use them". So 16% of juicer owners rarely use one. That leaves 84%. I'm betting that a high proportion of those, especially anyone who grows their own veg, are as happy with them as I am. 
*That rise in juicer purchases is spurred, apparently, by Fat, Sick and Nearly Dead, which sounds like another of those if-you-don't-stuff-yourself-with-fast-food-you'll-feel-better" documentaries. There are some interesting sounding juices from the movie at Awesome Rawsome.