One of the most fascinating things about Chelsea is the preparation that goes before. And if you feel that, then you're not alone. "We get the highest number of hits on social media when we show the preparations for Chelsea," explained Sarah Mills, Commercial Head of Wholesale at Hillier, the family-run nursery near Romsey.  
 With Chelsea firmly on the horizon, the mounting pressure is clear. Director of Retail and Wholesale Chris Francis, ultimately responsible for the success of the Hillier stand, said that these days his first emotion on receiving a gold is relief. With Hillier's uninterrupted, and unbeaten, run of 72 golds since 1945, you can see his point.
For Hillier, Chelsea is inextricably entwined with their brand, adding history and credibility with each year. Both the show and Hillier have come a long way since you pitched up with a van, unloaded your pots, put a rope round them, and waited for orders. And in the last five years, it's changed again for Hillier. Recently moved to a central spot in the Grand Pavilion, the stand's  design is no longer solely focused on what they've grown. "Now we're very much able to produce something that will inspire people to create their own green living spaces," said Chris. 
Sarah Eberle, the most decorated designer in Chelsea history, is the stand designer for the third year running. She's won gold in more categories than any other designer, and last year became the first to achieve three years in a row of two gold medals; she's taken the innovative step of allowing visitors onto the stand this year. "We've opened up the garden to allow people to interact with it and take inspiration for every aspect so they can get up close to the planting." From the walkway you'll be able to see various parts themed around work (including a potting shed), rest (a relaxed garden room) and and play (a firepit). "Each exhibit will have special element for people to take home," she said. Sponsored by Stihl, the garden will have made liberal use of their equipment in its creation,and include a broader range of what's on offer in Hillier Garden Centres, including pots, tools and accessories.
It's a huge space to fill, up from last year's 12 x 22 metres to 15 x 24 metres. "It's a challenge with growing the number of plants," said Sarah. "We've had snow, rain, twenty-eight degrees heat - designers are stressed! My pillow of comfort is that everyone is in the same boat," she added. 
The Chelsea run-up begins pretty much with the previous year's show. "My greatest source of inspiration is the show itself." So keep your eyes open for Sarah zipping around with sketchpad and notes. On the stand, expect to see earthy, organic colours in the hard landscaping of polished concrete and corten steel provide a backdrop to rich oranges and blues. 
With all that space, the show is the chance to show more and more of the plants that Hillier grows. Three new plants will be in the display. Eryngium 'Blue Waves', an upright plant with large flowerheads surrounded by smaller ones, which along with bracts and stems turn a vivid blue as they mature...
 Hydrangea aspera 'Gold Rush', which starts with gold and flame orange foliage and matures to a golden yellow before turning green...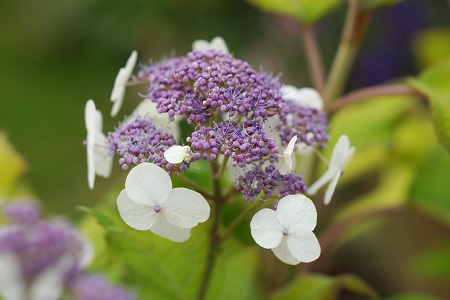 ...and Salvia 'Rhythm and Blues' with stiff, long, black-tipped flower stems contrasting with strong blue flowers...
For George Hillier, fifth generation of the family, the new plants are always a highlight. "We love unveiling our plants at Chelsea and watching people come to find them in the garden. There is almost as much anticipation each year for the announcement of these as there is about the garden design. 
What visitors to the Hillier stand in previous years will know is that the display will show none of the sweat that will have gone into it - the twenty lorries filled with 8000 plants setting off from the nursery, the 112 bags of cement, the twenty-four pallets of bark, the 150 people involved in the build and all the tea drunk.
If you're not able to make it to Chelsea this year, then pop along to one of the twelve Hillier garden centres around the country. Along with "Chelsea Trolleys" showing a selection of the plants used on the stand, you'll get a small flavour of the show.  "We send pictures to the garden centres," said Chris, "and ask them to produce a version at the entrance." 
No, it won't be quite the same, but nor will it have required 60 tons of hardcore to reproduce!