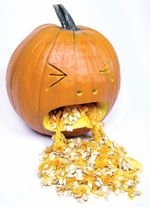 I've mentioned Tom Nardone before, in Halloween Parties, but if you're bored with the usual pumpkin designs, or looking for something "extreme" to do with your Atlantic Giant, then his website has very arresting designs.
Personally, I'm happy with a gap-toothed frown (on the pumpkin, silly), but these, frankly, stomach-churning designs will certainly appeal to small boys.
Tom provides 48 downloadable pumpkin patterns, including Gunshot to the Head, Drowning Pumpkin (nastier than it sounds) and his renowned Puking Pumpkin (pictured). Included are instructions on quick carving (power tools involved), and pumpkin preservation.
Tom has also had two books published: Extreme Pumpkins and Extreme Pumpkins II. You can find them at Amazon.