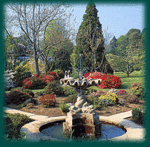 If Boxwood Garden Tours mentioned earlier this month seemed too much, then one company that you might not have thought of for gardens is HF Holidays who, as well as their well known guided walking tours, offer fifteen different garden tours.
[NB: This post was written in 2010. Most of the following tours are still run by HF Holidays, but the links change from year to year. So, click on HF Holiday link above for a list of current garden tours.]
Three-night trips to Hampton Court and Tatton Park Flower Shows include visits to other gardens in the area and cost £319. Other tours encompass most areas including Cornwall, the Cotswolds, Sussex and Scotland.
HF Holidays, in business since 1913, pride themselves on friendly, easy-going hols for all: singles, friends and families. Their garden tours include a mix of public and private gardens and are led by experts.
One expert you might recognise is writer and broadcaster Christine Walkden. She'll be leading the Welsh Border Tour in May, and the Devon Garden Tour in June. I'll be posting more about Christine in the next couple of weeks.