Needing to ferret out some garden history books was the ideal excuse to visit Wisley last week (before The Snow).
In case you've missed it on your stampede to the cafe, the library is a calm oasis on the right where the charming assistants are extremely helpful and you can browse the latest gardening magazines and immerse yourself in books.
They're keen for more people to use it, though I must admit I think that would be a shame. Always nice to have the place (almost) to yourself.
Before I bore home a cache of literature that would challenge a weightlifter, we had a mooch round. Currently starring in the glasshouse are exotic butterflies (there till 24th February).
There's a fascinating emergence case, which displays hundreds of pupae, suspended in rows from dowels (I can only assume they glued them on. The caterpillers can't be that well trained).  Some butterflies had just emerged and were thinking about their next move. Others had just begun the sustained fight out of their case.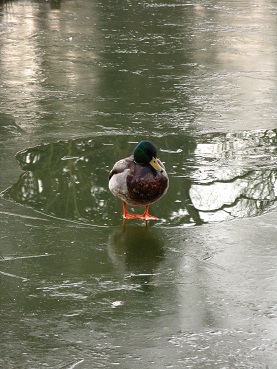 Outside, Wisley looked lovely in a serene, pared-down manner which really emphasised shape and colour. The lake was partially frozen, but this didn't deter one duck, which paddled breast-on against the ice, gradually breaking itself a path.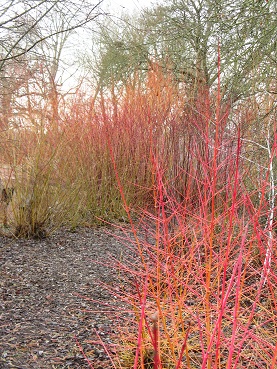 On the bank dogwood features strongly and, combined with salix and the ghostly white thorny canes of the Two-Flowered Raspberry (Rubus Biflorus), created a muted flame effect.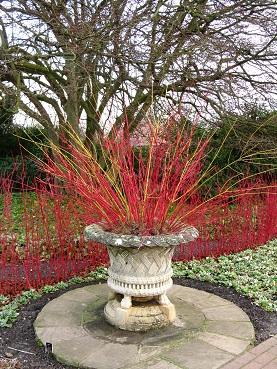 Dogwood had also been artistically employed elsewhere, as branches pruned from some out-of-the-way bushes made decorative screens to enliven the beds by the rectangular pond.  It's a little early to cut dogwood down, but it's hardy and a passing Wisley gardener said it would survive. Yellow and red had also been combined in a display in one of the urns.  It created a lovely sinuous line and combined well with the daisy cultivar, Bellis perennis 'Pomponette' at its feet.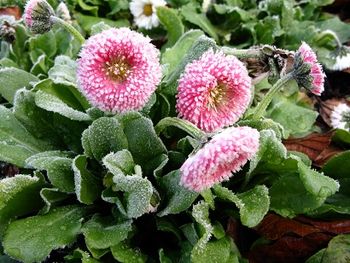 Incidentally, if you plant Bellis next to a lawn, it's likely to cross-pollinate with the lawn daisies and you'll get pink variations. That's tempting.