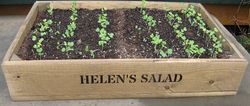 NB This giveaway is now closed.
Some things have instant appeal. Often they're the simplest ideas, as I discovered when my salad crate from Suttons' new Stacks of Flavour range arrived.  I felt ridiculously pleased.
It's cute, nicely proportioned, solidly made and came all ready with a liner to stop soil falling out of the bottom and seeds in a range of salad leaves ready to sow. 
It's also neatly stencilled with "Helen's Salad" (blush!). Passing snails take note. And, indeed, it's possible to have your crate inscribed with a message of up to 20 characters, which is a way to make it a very personal gift.
Stacks of Flavour crates, launched today, come in three depths. Three slats deep for root veg, chillies and strawberries, two slats deep for herbs, and one slat deep for salad leaves. Each has a liner which you can cut to size (I just folded mine to shape and tucked it into place) and seeds or plants. There are seven different collections to choose from and all you need to do is add compost.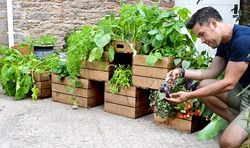 You can add to your collection by buying individual crates in a variety of sizes, with the liner but without seeds or plants, so you can expand your growing space to encompass more varieties in time with your growing confidence. You can see the full range on the Stacks of Flavour website.
They should last for a bit too, made of FSC sustainably sourced wood that's a sturdy 12mm thick, with extra pins for structural strength. The wood has been treated to last at least three years but I think I'd give them an annual application of wood preservative to prolong it further.
Growing like this is the box equivalent of square-foot gardening. Only better, in some ways. You can move things around, stack unused crates out of sight if you decide to downsize for a time, or add more growing space as it suits.  With more people having to rent, these provide an ideal solution to a portable garden.
While the crates are particularly good for people with limited garden space or who would just like to start off in a small way, it doesn't stop them being really cute and an attractive option for anyone, experienced or not, who fancies growing a bit more on the patio or using that porch space that's always gone begging. 
I love the fact that I now have a salad "bed" that's been easy to start indoors away from inclement weather and will remain out of reach of slugs. With Strawberry Fields I could segregate my varieties so they didn't get all muddled in the beds, and I could remember which plants were which.
Two Strawberry Fields crates up for grabs!
To celebrate the launch, I've got 2 prizes of Suttons' new and exclusive Stacks of Flavour 'Strawberry Fields Collection' worth £32 each.
Included with each are: 
8 plug plants of Strawberry Toscana - a unique variety with attractive pink flowers which bears a continuous supply of sweet, juicy fruit right through from July to October (and will do for many years to come).
1 x 3-slat crate (5.3cm x36cmx28cm high) plus liner. 
FREE personalisation
To enter
To be in with a chance to win one of the crates, please leave a comment below. You can also enter by following me on Twitter and tweeting a link to this post (include @helengazeley in the tweet so I know you've done it).
 Do both and you'll be entered twice!

The winner will be drawn at random from all the entries.

Deadline for entries: noon on Thursday 26th March 2015.
This giveaway is now closed. Congratulations to Ryan and Jan who will each soon be receiving their Strawberry Crate.
Terms and Conditions:

1. This giveaway is only available to people with a UK delivery address.

2. Entry closes at noon on Thursday 26th March.

3. The lucky winner will be notified on 26th March either via the email address used to leave a comment below, or via Twitter. If I have not heard from him or her by midnight on 4th April I will draw another winner.
3. I have two prizes of one Stacks of Flavour Strawberry Fields from Suttons to give away. No cash alternative.

4. Suttons will send it out in May, when it will be ready to plant out.

5. Anyone found using multiple Twitter accounts to enter will be disqualified.