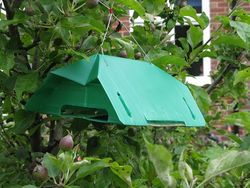 Last year was an appalling one for codling moths, at least among our apples. They behaved like vandals fouling every bed in a house left empty. Few were the apples that escaped their noisome burrowings.
This year I intend to be different, and have extracted from the shed the codling moth trap that I purchased last spring (the codling cohort has been gathering strength for some time).
These traps should be put up at the end of May (it's not too late) so onto the tree it went last weekend and I dismally assumed that, given the downpours and damp air that persisted this week, nothing would have been flying.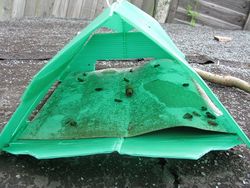 But no! Already I have caught fifteen of the little blighters. The idea, of course, is to use it as an early warning of pest infestation, so that you know when to spray the trees.
Fifteen moths caught within a week should trigger my pest-control response, according to the packet it came in. For orchards it suggests that five moths ring the alarm, and as the tree is within the specified 15-metre range of five other trees, that sort of constitutes orchard conditions. All in all, this feels like an invasion and things aren't looking good.
However, despite the magic number fifteen, I'm not keen on spraying and, according to a useful codling moth factsheet from Which?, it's darn difficult to get the timing right, so I think I'll rely on the organic gardener's hope that enough male moths will be caught to leave the females virginal and childless.
The thing that makes me slightly nervous is the warning from the Organic Gardening Catalogue that birds might be attracted to the moths inside the trap and that I should check regularly to ensure that none is wedged inside. I really don't fancy trying to unstick small bony feet from the glue on the trap.
Most of the traps sold are the Agralan design I've got, but, given the bird worry, it might be worth investing in one from Harrod Horticultural. You need to keep it topped up with soapy water but reviews are good and I can't see a bird sneaking in there.
NB I bought my trap from my local Horticultural Society for the bargain price of £5.15, rather than Amazon's £7.99. If you've got a local society, it's really worth checking them out.