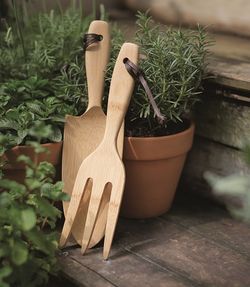 Bamboo is a tough old bird, as many gardeners have found to their cost, as they've hacked away at ever-spreading clumps.  According to the Guinness Book of Records, the fastest growing plant on the planet is a type of bamboo, racing away at 0.00002 mph to make a rather staggering 35 inches (91 cms) in one day. 
Such energetic performance, at a time when sustainable living is a constant goal, makes it an attractive possibility as a wood substitute (products include bamboo-based fibreboard and cement-bonded particleboard), but how about garden implements?
Bristol-based allotmenteers Jyoti and Martin Shaw run Damson, the rather attractive online garden shop. They recently sent me their bamboo trowel and handfork to try.
They describe the trowel as "surprisingly durable", suitable for all soil types, and "especially good for planting and weeding, mixing in natural fertilizer or transplanting".
The fork, they say, has been designed "to loosen soil, not to lift it" and is great for mixing soil materials, turning compost piles, weeding, and harvesting root crops like carrots and potatoes.
So, what did I think?  Well, the first striking fact is that they are incredibly light. Really, really light. If you suffer from sore or arthritic joints, then this could be a major bonus for you. You could also slip them into the pocket of a gardening apron and barely know they're there.
The tools are formed from a single piece of bamboo, which means the handle is very flat and in line with the working end. I find that the end digs into the palm a little. On the other hand, because they're so light and you don't need to grip them hard, this really doesn't bother me. However, if you found this a problem, a bit of gardener's ingenuity with some padding and string, or indeed Sugru, would let you retain a lightweight tool with a bit more comfort.
Performance-wise, I had to get past the mind-block of being scared to use something not metal and, therefore, apparently fragile. Once I got used to them, however, I was surprised. They are robust. This garden has heavy clay soil and I wouldn't want to try to break up concrete-like earth with the handfork, but it happily turned over the slightly looser soil of the raised beds. In wet soil, the tines clog up slightly more easily than metal ones, but again it wasn't a problem.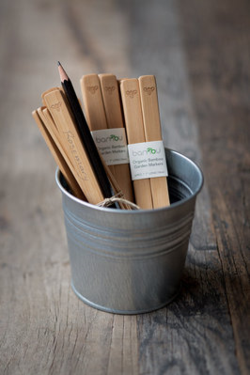 The trowel is very sturdy and, in dried-out clay, had no more difficulty than a metal trowel in cutting through it (by which I mean, both of them can barely manage it). It has a thin edge, which helps in cutting through soil. Its body is a little thicker than a metal trowel, so in some soils I suspect it take a little more effort to push it through, but again in the looser soil of the raised beds I noticed no real difference.
Bambu, who make the tools, is a company focussed on renewable materials and sustainable business practices. They also make plates and cutlery and were awarded Green Americas Green Business Seal of Approval.  The tools are handmade from certified organic bamboo, without glues, plastics or lacquers, so their eco-friendly appeal makes them all the more attractive.
still, as all reviewers know, the real test of something comes after the trial. And the question is, Am I still using them? The answer is yes. 
There's another tantalising thought. If you've read the Implementations website, you'll know that one theory about copper tools is that their use reduces damage by slugs and snails. This, it's suggested, is  because they don't affect  magnetic signals in the earth the way that iron tools possibly do. If this is so, then it seems to me that using bamboo tools must also reduce slug and snail damage, as they surely won't affect magnetic signals either.
Anyone out there fancy conducting an experiment?