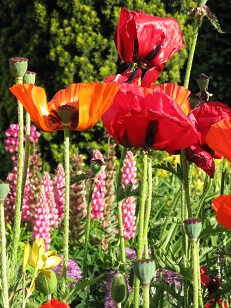 If you're anything like me, your photos end up on the hard drive and rarely see the light of day. So when PicStick offered me a free trial, I thought at least it would liberate some pictures.
PicStick will turn nine photos of your choice, uploaded from your computer, tablet, phone etc, into fridge magnets 5 x 6.5cms.
I was about to trawl my computer for garden images, when a blog post on Picstick's website caught my eye - instead of nine smallish images, why not create one big image by splitting a photo into nine pieces?
I took ages to choose the picture (heaven knows how long I'd have taken choosing nine different ones). This one is from the garden of our favourite Shropshire B&B and reminds me of holidays and the delightful couple who run it.
Unfortunately, PicStick doesn't offer an image splitter of its own, so I used Image Splitter. That divided the image without fuss and it was easy to download the pics to the computer. My worry was that the size of the individual pictures wouldn't be a high enough resolution for the finished product (each jpeg portion was around 50Kb file size), but there didn't seem to be any info on that on the PicStick website, so I just took my chances.
You load the photos on to a grid, and it looks as if you have to ensure that all your photos are landscape-orientated, so I wasted quite a bit of time turning pics round 90 degrees and reloading them. Then I discovered that you don't actually have to do that - it turns them round for you if you just save them.
When you've finished uploading you have a grid of nine pictures, in the arrangement in which they'll be printed. PicStick promises to have them posted within one working day of the order. Sure enough, the next day I had an email to say that the magnets were being shipped, and the day after that they plopped through the letterbox. It couldn't have gone any more smoothly.
And the magnets themselves?  They arrive in a sheet that you have to separate yourself. It needs to be done with a bit of care but isn't particularly difficult. PicStick uses 200 gsm art board, with a glossy finish, backed with a magnetic sheet (so the pictures are bendy, rather than the rigid plastic I was, naively, expecting. They stick well to the fridge, but aren't really there for retaining notes - any more than a single sheet of paper between them and the fridge door and you're likely to find yourself picking them off the floor.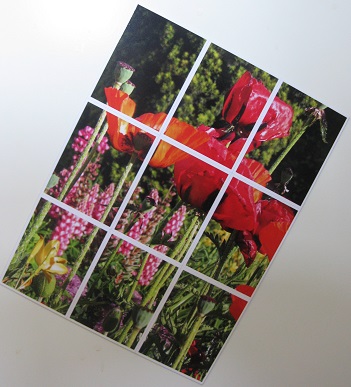 But they've added a real splash of colour to my fridge. The resolution is fine and, to my surprise, I've discovered that, artistically, I'm rather fond of a somewhat abstract array - my Cubist rendition of a poppies and lupins.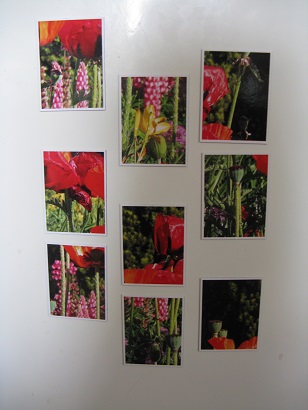 At £9.50, p&p free, it's a fun way to remind yourself of favourite garden scenes, or make a display of flowers and plants, or give someone a memento of an enjoyable outing shared.
Picstick are offering a 25% discount to anyone entering the code HELEN25 when they make their purchase. (Offer ends 5th November 2014.)